To print a
Windows desktop as a page

/ the entire computer screen under Window very easily!

Contents:
1.) Print the entire desktop as a page under all Windows OS!
With the
"Print key"
you create a complete desktop screenshot. With the
"Alt"+"Print key"
you create a screenshot of the current window.
However, we use the 
window screenshots directly as an image function
for this purpose.
1.
Windows + Logo + print
key combination
2. Then open the screenshot folder Windows+R command: 
%UserProfile%\Pictures\Screenshots
3. And simply print the screenshot you just created
(
... see Image-1 Point 1  to 4
) 
4 . Don't forget to deactivate the option "Fit picture to frame"
(otherwise the entire desktop will not be printed as a page)
(
... see Image-2 Point 1 and 2
) 
PS:
It is quite easy to print the entire desktop as a page, this works on all Microsoft Windows 10, 8.1, ... as well as MS Web Server OS 2022, 2019, ....!  
(Image-1) Windows 11, 10, etc. desktop print on one page!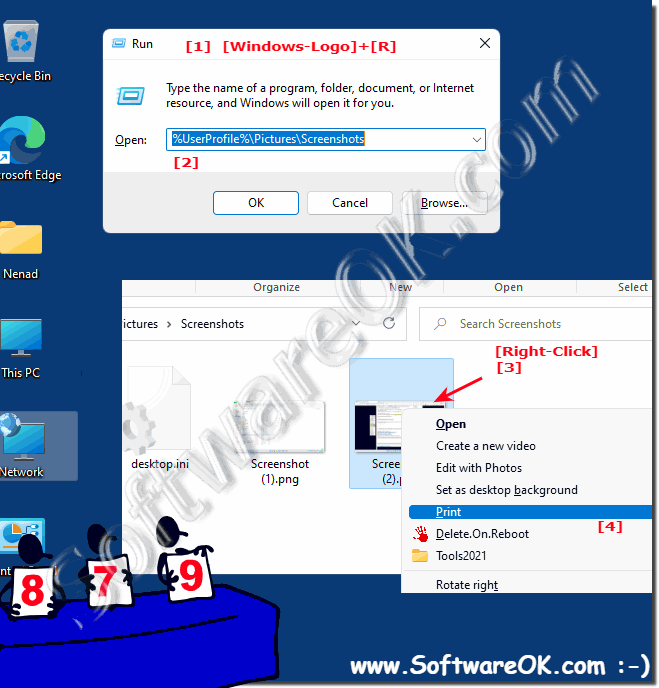 ---------------
2.) More tips and links for those who like to print well under Windows!
Designed for power and control, the Windows desktop offers many more options for printing your work. But that power and control often means wading through a sea of ​​menus. When you work from the desktop, Windows gets your work printed in half a dozen ways. Chances are, these are the methods you use the most!
(Image-2) On all MS Windows OS, print desktop on one page!