Disable all printers under Windows

Desktop and server systems is indirectly possible!

Info:

Many users who have problems with the printers ask themselves this question, this is of course possible under Windows.

And that goes over the Windows services, which one can find out quite fast.

This is possible under Windows (11, 10, 8.1, 7) Server 2016 and 2012!


1.) Exit the print queue on Windows 11 / 10
Please start the Windows services simply with the command
services.msc
  best with the Windows Run dialog (Windows + R)!
In the Services window, select Print Queue and stop the service and start it again if you want to print again (... see Image-1 Point 1 to 4)

The
Print Spooler / Queue
Service on Windows is the service that 
supports the Responsible for print jobs and enables the interactions (communication) with all Windows printers.
If you turn this service off, you will not be able to print, the printers will no longer appear in programs, as if there were no printer installed.
Only after starting from the printer service can be printed again.  

Tip: ►  Windows 10 Fax and Scan Feature  ►  ... change the default printer in Windows 10 !


(Image-1) Disable all printers under Windows 10, 8.1 and 7!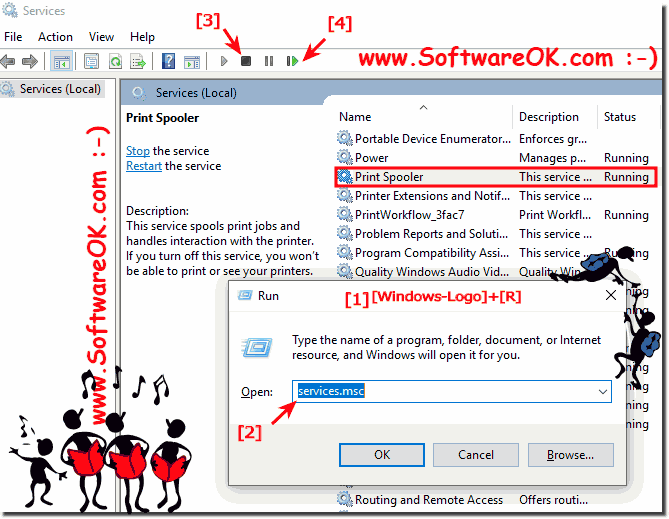 If you have a PC-connected printer or network printer connected to your Windows computer, you may need to pause printing or remove paused print jobs that are in the queue.
Sometimes, Windows 10 ignores the Clean Print Queue command
available
on the printer's user interface.
Here's a quick fix to remove jammed print jobs in the print queue.



(Image-2) Disable printers under Windows!


Info:
As you can see from the screenshot taken in Windows 10 above, it is easy to temporarily disable the printers at once.
However, you can safely apply this example to earlier versions of Microsoft's Windows operating systems, whether it's a Windows desktop, tablet, Surface Pro / Go, or even a server operating system.
Disabling the printers in this way has been tested and successfully verified on various MS Desktop and Server operating systems
.