Changing sleep mode settings in all Windows OS is quite easy even for inexperienced users!
1. start 
powercfg.cpl
via the
Run window
2. And you the settings for sleep mode under Windows
(
... see Image-1 Point 1 to 5
)
See also: ► 
Hybrid Sleep Settings in Windows 10 off
!
The power-saving features of Windows 11, 10, 8.1, ... turn off the
screen
after 10 minutes with the default settings
and the PC goes into sleep mode after 30 minutes.
In most cases, the energy presets make sense. 



(Image-1) Changing sleep mode settings under Windows 10, 8.1, ..!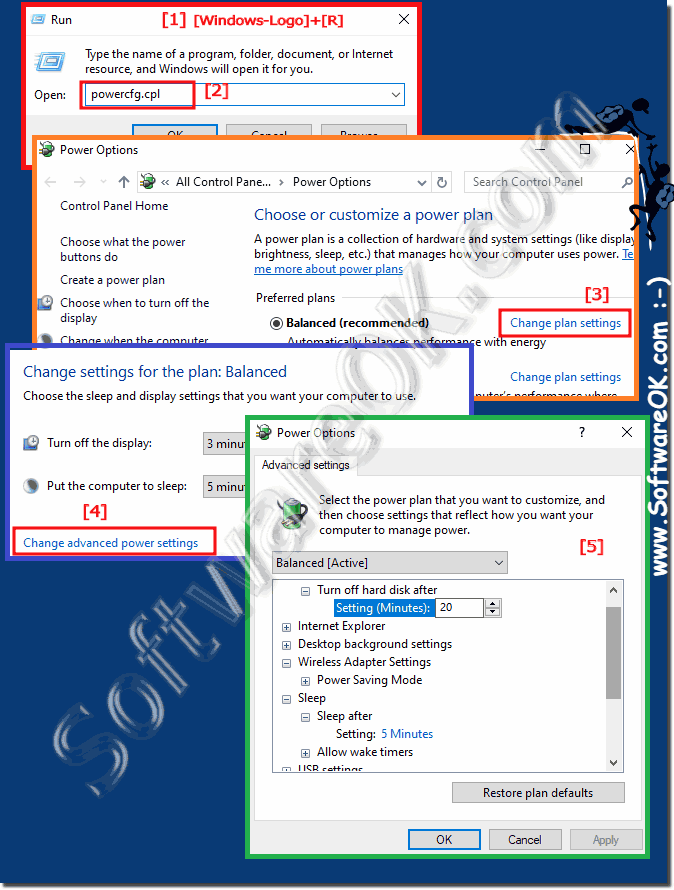 What can I do if I still have problems with the "sleep mode settings under Windows" is a frequently asked question.
Restart
the Windows operating system, please
perform a correct Windows restart
here
.
If the problem persists, the free Don'tSleep tool will not help you!
There are several ways to shut down the PC: you can turn off the PC completely or put it to sleep or standby.
Do not worry, your files will not be lost if the battery does not last long enough, unless your hard drive breaks down at the same time,
Windows automatically saves your files to the hard drive and shuts down the PC when the battery reaches the end of its capacity.