Deactivate or activate the recently added apps in the Start menu under Microsoft's Windows 10/11 Home and Pro!
By default, when you open the Windows 10 and 11 Start menu, recently added apps are displayed at the top of the app list. This section shows some of the apps that you recently installed. If you want to remove or reactivate this, you can easily change this!
Content:
1.) If you want to hide the section "Recently added"!
If you want to hide the "Recently Added" section, you'll need to go to Windows Settings. Open Settings by clicking the Start menu and selecting the Gear icon (or pressing Windows + I).
Step by step!
1. As described here: ►
Open the Windows settings
 (for example
Windows + I
keys )
2. Click in the settings on
"Personalization"
.
3. Under Personalization in the sidebar (right) click on the
"Start"
option .
4. In the Start menu settings, find the
"Show recently added apps"
switch .
5. Click on the switch and deactivate this option
(
... see Image-1 Point 1 to 5
)

PS:
The next time you open the Windows Start menu, the recently added section with apps at the top of the Start menu will no longer appear displayed. You will no longer be reminded of all the apps you recently installed, but you can of course find all apps in the list or via the search field in the Start menu (Windows + Q) even without this Start menu option.


(Image-1) Deactivate recently added apps in the Windows 10 start menu!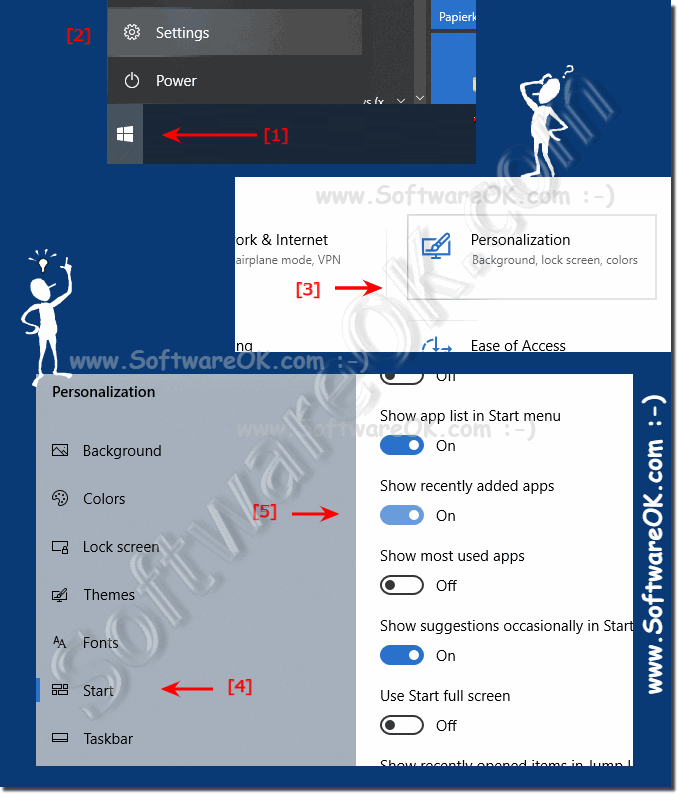 2.) More helpful links to the Windows 10 / 11 start menu!
Helpful links and information:
In Windows 10, Microsoft changed the Start menu, which many users consider a positive. Compared to the start menu in earlier Windows versions, the new menu has been improved and offers the option of fixing with live tiles from modern apps and desktop programs