If you just want to locate the Direct X in Windows 10!
To find the version of DirectX installed on your computer in Win 10 through the DirectX Diagnostic Tool: Click Windows 10 Start, or Windows R, and then in Run, type dxdiag and click OK.
 Find DirectX Diagnostics via Window Start 10 Search Box!
Run the DirectX Diagnostic Tool in Windows 10 with Startup Search
You can also start the DirectX Diagnostic Tool by typing dxdiag in the search box on the taskbar, and then clicking the dxdiag search result.
(
... see Image-1 Point 1 to 3
)
(Image-1) Find DirectX diagnostic program in Windows over Start!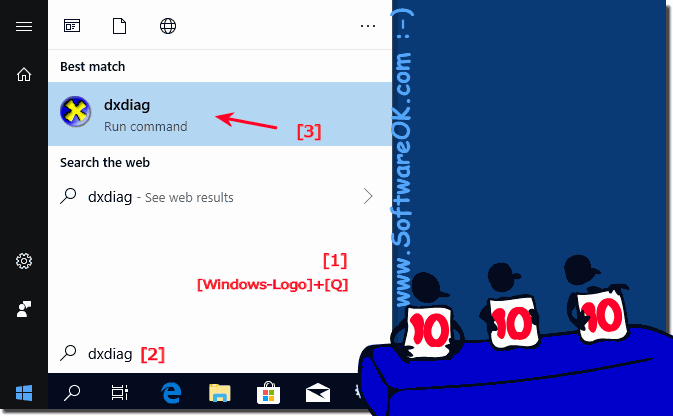 By the way, by the way!
And that's good to know!
The MS DirectX Diagnostic Tool provides a quick way to make sure DirectX is properly installed and running, and to display information about devices and drivers on your system that are related to multimedia and video.
The tool also provides an easy way to save this information and share it with others.