A simple pixel color query with the help of the program argument is possible if the pixel query tool should not run in the background!




 

Content:



1.) Find out pixel color via command line!
Example: 



D:\Tools\GetPixelColor.exe

get_pixel_color



Or shortcut with Create parameters for the desktop pixel query!

(... see Image-1 Point 1 to 4)




(Image-1) Pixel color queries with the help of program argument!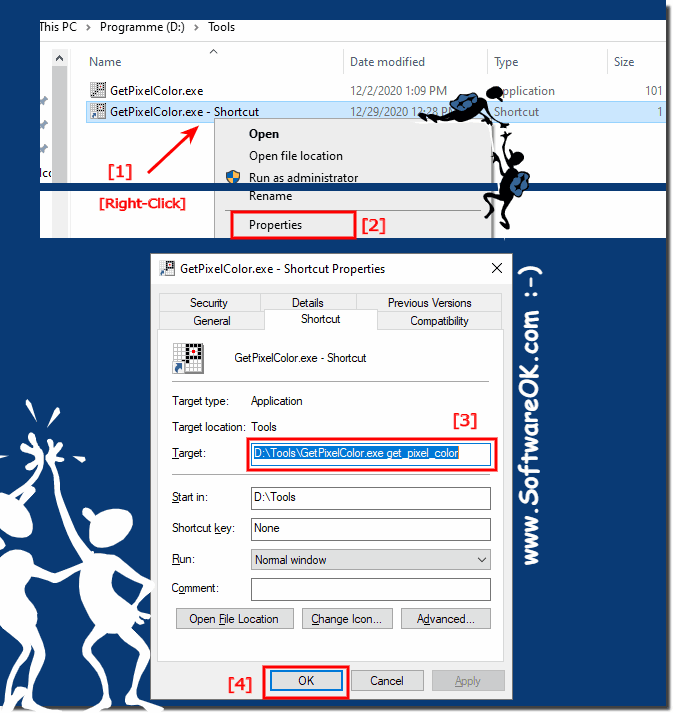 2.) Does it make sense to find out RGB values ​​by command?
Of course, it also makes sense to determine the RGB or RGBA color values ​​of a pixel on the Windows desktop, but if it's just because of the program's resource consumption, it makes less sense, because the tool is really very small with 2 MB in memory and hardly worth mentioning in terms of resource consumption or energy wastage on your Windows machine.

But of course, it is up to everyone how they query their RGB color values ​​from their desktop and whether they ever query them at all. Graphic designers and web designers as well as people who like to work with colors and work artistically on the computer have such a small tool that does the RGB work for them, and they don't have to guess what the RGB values ​​of the pixel have every time.




PS:

The pixel must be visible; In other words, it is not possible to get the pixel color of a window that is hidden behind another window. In contrast, pixels under the mouse pointer can usually be recognized. A window that is partially transparent or whose color is marked as invisible (

alpha transparency

) usually provides colors for the window behind it and not for its own.





FAQ 6: Updated on: 4 October 2022 09:05