If your own account has errors and you want to keep the name, you can completely reset it by deleting and creating a new one under Windows 11, 10, ... etc.!
You can of course
reset Windows 11
, but if you only want to reset a local account this is not necessary and takes less than a minute and you can use the same username without affecting the other accounts!  
Log on to MS Windows 11 with another user, who should, however, have administrative rights to create a user account and delete an existing one. For example, the ►
Windows 11 system administrator
who can be activated quite easily, regardless of whether 
Home or Pro version,
is best suited for this action  ! 
1.) Delete the account!
1. After you have logged in with the user account 
2. Easy command
control userpaswords2
start
3. Delete the user and confirm that all data to be deleted 
4. Then put the user back on as described here ► 
adjust the account type
Even if the user is logged in, the system administrator works without any problems 
(
... see Image-1 Point 1 to 4
)
(Image-1) Reset local account in case of errors under Windows 11, 10, ...!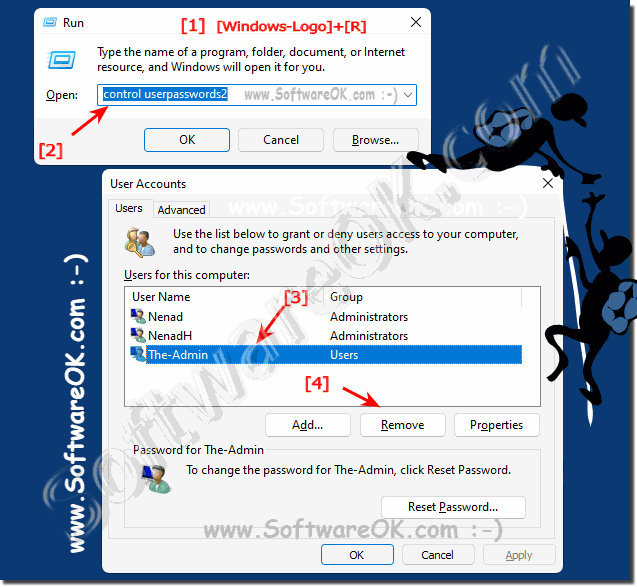 2.) Optionally delete the user account data!  
1. Start the MS File Explorer 
2. Open the directory containing the user accounts
C:\Users
3. And delete all user data
(
... see Image-2 Point 1 to 4
)
Once you 
understand user accounts
you can just do it without feeling guilty about it!  
(Image-2) Reset local account in case of errors!