Automatically update the number of objects in the Explorer status bar of Q-Dir on Windows 11, 10, ... and MS Server operating systems!
If the number of objects in File Explorer is not updated automatically, check whether the Quad-Explorer / Q-Dir version is also the latest and that you are using the x64 Explorer version if you manage your data on Windows 11 or Windows 10x64. Whatever makes more sense under x64 is to use the x64 Explorer version.
(
... see animation Image-1
) 
(Image-1) Number of objects in the explorer status bar of Q-Dir!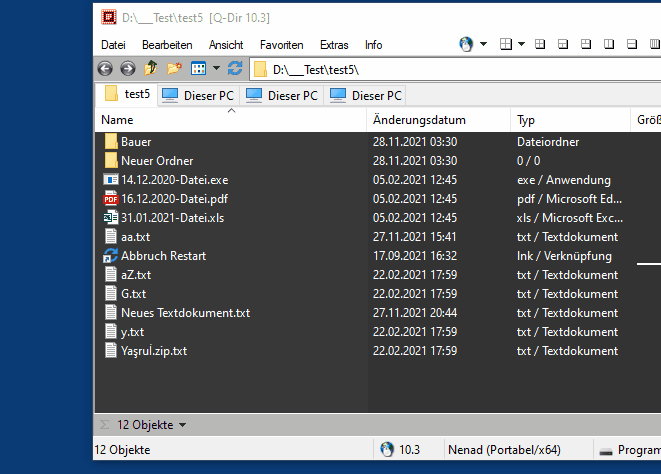 Windows Explorer does not always show the number of objects in the folder selected in the directory tree in the status bar of its windows, and above all not how many files and directories are in the folder! The Explorer cannot do this even with help, you also have to display the properties dialog via the context menu when selecting another folder in the directory tree.
Info:
In Q-Dir you also have the
column to see how many files and directories there are in total
. In order to get the number of files in a complete partition from the Quad Explorer, you do not need any expertise in counting data and folders, it is sufficient without a properties dialog by simply marking all objects at their top level and then opening them without a dialog in the status bar, which can read them cleanly.