New from 6.48 in Desktop-OK is
saving the window position

regardless of whether Windows 11, 10, 8.1, 7, ... or MS Server OS!

 

It is really very useful and beneficial to use this new function "Save Window Position", which was created on user request, so that at program start the window is positioned on the desktop where it was last positioned at the end of the program, regardless of whether it was an older version of Microsoft's Windows operating systems, or use it on modern Windows 11 / 10 desktop computers, tablet PCs, MS Surface Pro / Go, or even on a server operating system

Tip:

At this point optional: "Always start minimized (ToTray)" or activate "Start DesktopOK with Windows"

(Image-1) Save the desktop OK window position at Program end!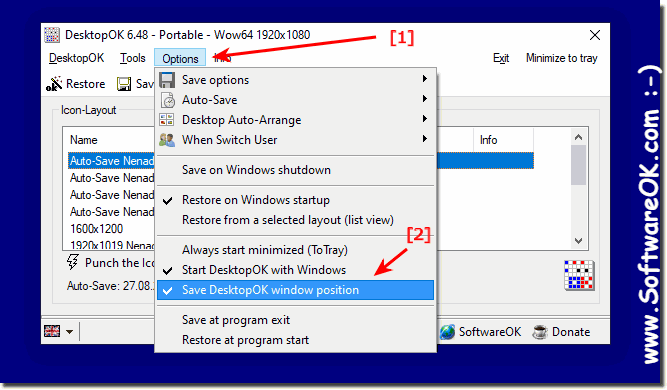 Info:
Still problems with the "Save the window position".
What can I do if I still have problems with "saving the window position" is a frequently asked question
Restart
the Windows operating system,
please perform a proper Windows restart here .