It is quite easy to
uninstall and install DesktopOK

on Windows 11, 10, 8.1, ...!

DesktopOK (64-bit / 32-bit)

is a very useful tool on your desktop computer.

With some Windows systems that are complex or poorly configured, even if the computer is flooded with malware and Trojans, DesktopOK functionality is not guaranteed.

Despite the rich functionality and desktop ok tools, some computer users want to remove this desktop tool.



Content / Solution / Tips:
1.) The installation of DesktopOK!
Start the DesktopOK installer either
DesktopOK x64 or x32
and install DesktopOK
(Image-1) Install Desktop OK 64-bit or 32-bit on Windows 10 and other MS-OS!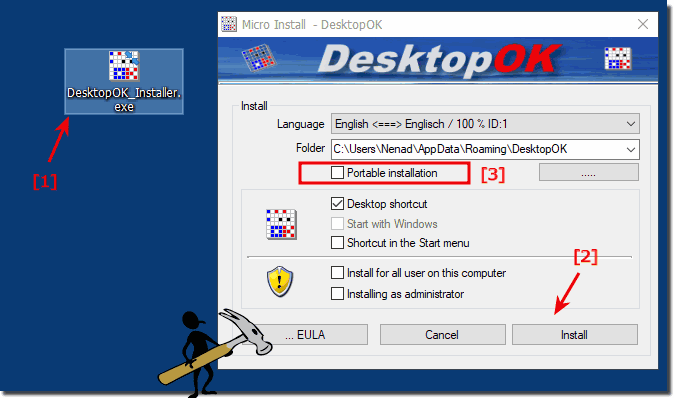 2.) Deinstalling DesktopOK!
Uninstall function via ►
 Main
 menu 
►
DesktopOK 
►
 Folder 
►
 Uninstall
(DesktopOK)
(
... see Image-2 Point 1 to 3
)
OR:
If DesktopOK is running, please close the program DesktopOK!
(... see Image-2 Point 4)

Please uninstall regularly via ►  Control Panel and ►  Program and functions !

Please also read this:  Installing installed programs in Windows 10, how can I uninstall them?


By default, the
DesktopOK.ini is created
in the
% APPDATA% / DesktopOK
folder
.

For portable use please create or copy in the DesktopOK working directory of the DesktopOK.ini.
Or run a portable installation (portable_install)!
(... see Image-1 Point 3)

(Image-2) Easy Uninstall Desktop OK 64-bit or 32-bit from Windows 10  and other MS-OS!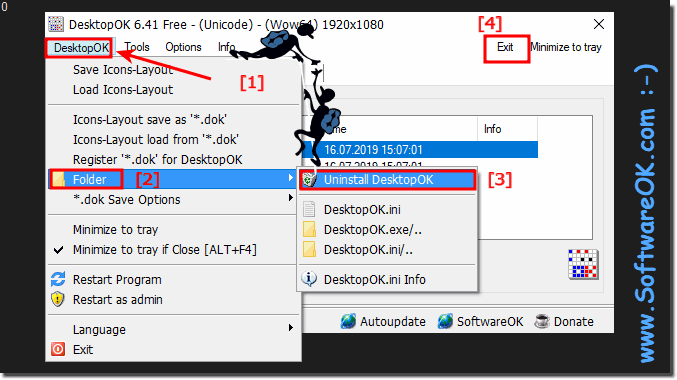 3.) Still problems with uninstalling and installing DesktopOK! 
Info Windows Reboot:
It is not uncommon that the Windows 10 is flooded with APPs and only lazily running,
a new installation of Window 10
can help here, who uses the system very active must do it again and again.
For me the reinstallation interval is currently at 30 - 40 days on some test computers where much is done even shorter.
If you rarely use your computer, you do not have to do it that often.
Some acquaintances have  to compile the PC only to 1-2 times in a month
a simple letter
.
Despite the low usage I have to play 1-2 times a year the Windows 10 paramedics.
Amazing what can go wrong.
For some one, I even had to go from Windows 10 back to Windows 7 .