It is easy to start a long-term memory RAM test and wait for incorrect accesses!
Yes, not only under Appel's MAC and Google's Android and Linux, it is also possible under Windows Possible RAM better than memory to undergo a long-term test.
Why not if you can do it like free tools as well as with  QuickMemoryTestOK .
Ease the "Memory Test Tool" and set it to infinity to begin the "long-term memory test".
You can read it quite a few days running, but usually after 30 minutes "memory test" a meaningful result has occurred whether erroneous accesses in memory! 


(Image-1) Start Long-Term Memory RAM-Test and wait for incorrect accesses!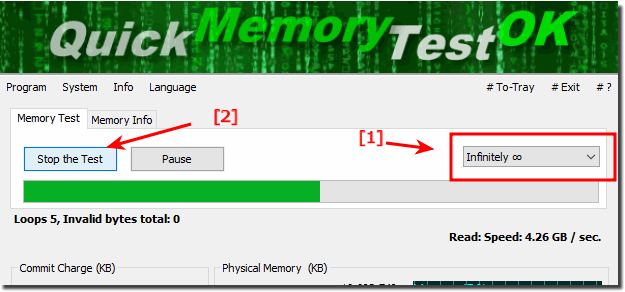 General about the RAM (RAM)!
Random Access Memory (RAM) is an important component of any computer.
When you start an app on your Windows 10, some of the available memory is needed to run.
Problems with your computer's memory can cause serious problems.
Today, everyone can look at how much memory you have, what you use, and how you can run in-depth tests to make sure it works properly.
If you've recently installed a new RAM stick and encounter problems, testing is an integral part of troubleshooting.
To find out how much memory your Windows computer has, see 
QuickMemoryTestOK
 or click on the Windows logo in the bottom left corner of your screen and choose About Task Manager.
On the Overview / Performance tab, the Memory line lists the amount of memory in GB, the memory speed in MHz, and the generation of the currently used data rate.