The incorrect setting of the tabs, also known as tabs in Edge, can be confusing if they suddenly appear on the left side of Edge and not at the top above the address bar!
Contents:
1.) Switching the tabs to the preferred position!
Switching the tabs to the preferred position is also quite easy in the Edge browser, regardless of whether you use it under Windows 11, 10, ... or MS Server OS!
Click on one of the tabs and select
Enable vertical tabs
, or to disable them
Disable vertical tabs,
you can also use
Ctrl + Shift + ,
(comma) the first time the vertical tabs are activated and the second Pressing the keyboard shortcut activates the vertical tabs in Edge!
(
... see Image-1 points 1 to 4
)
(Image-1) Tabs ergo tabs in the edge on the left or place at the top!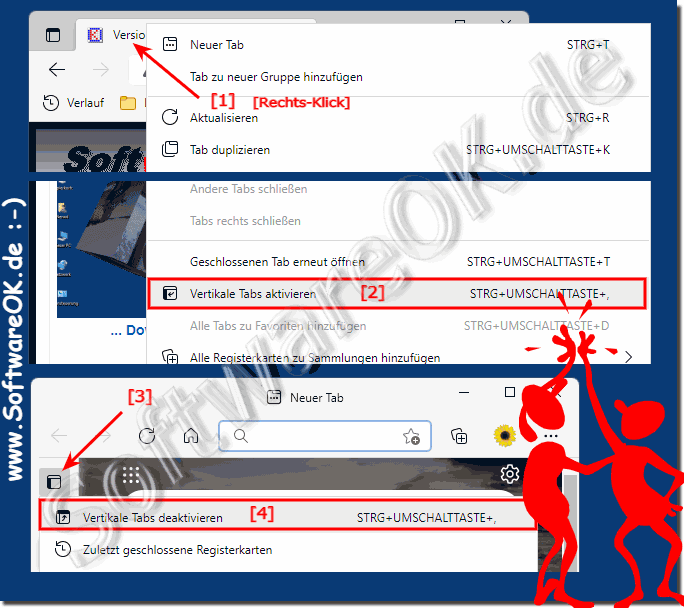 2.) How useful are vertical tabs in the Edge browser!

Disabling vertical tabs is a matter of personal preference and work efficiency. Vertical tabs are a feature in web browsers that allow users to display tabs on the left or right side of the browser window instead of at the top. This feature can have advantages and disadvantages depending on individual needs and working methods.


Here are some considerations:Benefits of vertical tabs:Better overview:
Vertical tabs can provide a better overview, especially if you have many tabs open. You can display longer tab Titels to show more information at once.
Space Saving:
Vertical tabs can save screen space, especially on wide screens. This can be helpful if you work on small screens or have many tabs open at the same time.
Easy Access:
Accessing tabs can be faster because they appear right on the edge of the screen. This can make navigation easier, especially if you need to switch between many tabs.
Disadvantages of vertical tabs:
It takes getting used to:
Working with vertical tabs can take some getting used to, especially if you've been using horizontal tabs for years.
Not available in every browser:
Not all web browsers support vertical tabs, and some users may not want to switch to a browser that does not offer this feature.
Limited screen height:
If you use a screen with limited height, displaying vertical tabs may leave too little space for actual web content.
Info:

The decision to enable or disable vertical tabs depends on your individual preferences and the way you work. Some users find vertical tabs extremely useful for increasing their productivity and keeping track of their open tabs. Others may prefer the traditional horizontal tabs. It may make sense to try both options and then decide which one is best for you