On user request, a short, how do I use the new file time stamp setter on Windows 11, 10, 8.1, ...!

I was not so aware that some users have a problem with the interface, so they dragged and dropped the desired files into the appropriate window space and did not find the program start and chose the desired date. So, how do I trigger the process, for example, a kind of "START" key or "OK" or ... or is the triggering process simply not opening up to me? And - btw - the two lower lines ind the mask "old" and "new" are actually identical ... 


New file time Set under Windows desktop and server operating systems!
1. Start
NewFileTime
2. Drag and Drop the files to the program
2b. Or via the Import button   
3. Set the desired date-date
4. Mark the file to see the new file time in the preview 
5 If all OK then press the button "Set time" 
If you are satisfied to start, press "Set time" and all folders and files in the list will be processed or the new file time will be set
... more info
and
... NewFileTime FAQ
can answer further questions or
... contact me
(Image-1) How do I use the new file time stamp setter!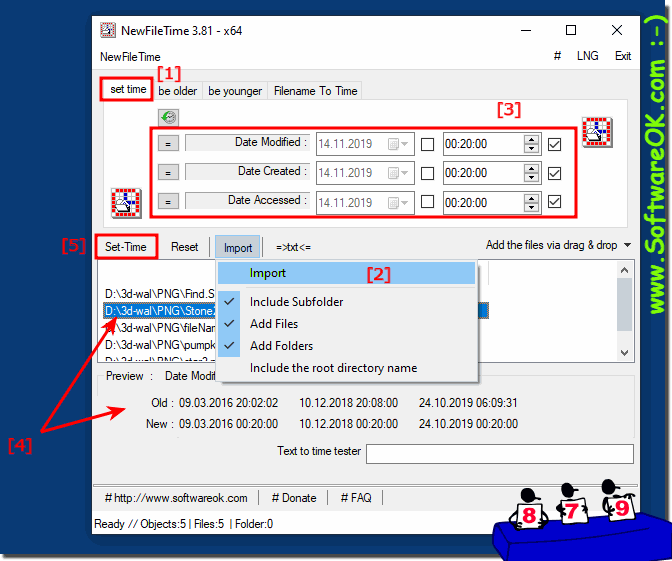 Info:
The File Time Change utility does not require an installation process as long as you have the newer version of Windows 2000 or later.
You do not have to worry about this because this file is independent of the Internet Explorer version and installed by other applications.
You've probably already tried to change file times on your system.
To use this program, copy the executable file to any folder and run it.
After running the utility, follow the instructions below to change the date of one or more files: Click the Import button and select one or more files.
You can select multiple files in one folder.
You can repeat the above procedure and select files from a different folder each time.
You can also add files by dragging them from the Explorer window into the window.
Select the date type to be changed (creation date, modification date, and access date) by deselecting or activating the 3 check boxes.
Select the date and time to change the selected files and click on the "Set Date" button on the "Set Time" button.