To change the position of the Classic Desktop Clock, for example to place it on the second screen ergo windows monitor on Windows 11, 10, ... etc.!


Open and start ClassicDesktopClock if the desktop clock is already running, if not, then just bring it to the foreground with the icon in the notification area of ​​the Windows taskbar.

1. Now simply disable the option Fixed at this position

2. Move the mouse over a non-transparent area of ​​the Classic Desktop Clock in this case it is the The Windows 98 Clock pointer. Until the hand cursor appears.

3. Hold down the mouse and position the desktop clock wherever you want the clock.

Like under Win-10! (... see Image-1 Point 1 and 2 )





(Image-1) Move the desktop clock on the desktop to new position!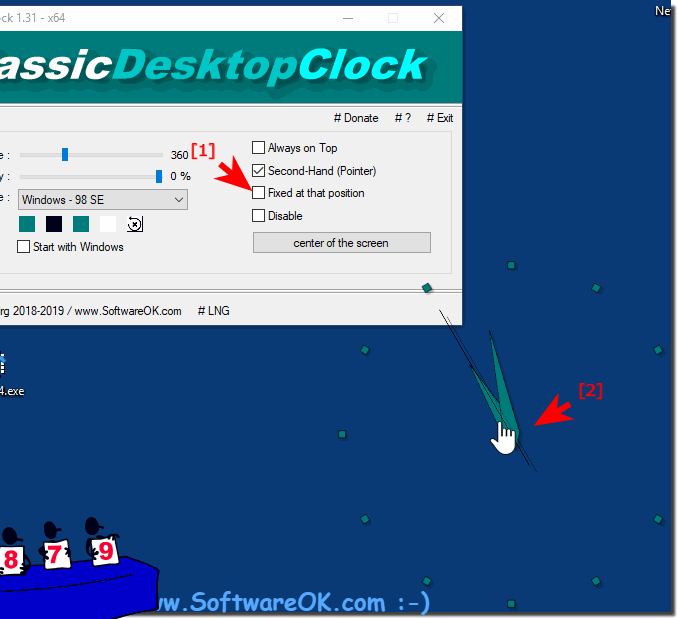 As you can see above in Windows 10 shot screenshot, changing the position of the desktop watch requires no expertise in the field of cronometer or special positioning study. You can also use this example as a Windows beginner to move the desktop classic desktop clock. This solution can easily and simple be used on older versions of Microsoft's Windows operating systems.




Info:

The desktop clock does not matter if it is on the home Windows desktop computer, on the tablet or Surface Pro and Go, or even on a Business MS Server operating system. It makes a lot of sense to occasionally move the desktop clock on the desktop, whether in the new MS Windows 10 OS or on any of the following operating systems: Windows 11, 10 Pro, Enterprise, Home, Windows 8.1, Windows 8, Windows-Server 2019, 2016, 2012 it was tested at all and successfully 

verified

.



FAQ 1: Updated on: 29 July 2021 08:27