The camera noise / sound in the screenshot feature for Windows

in Desktop OK is an optional feature for desktop screenshots on Windows 11, 10, ... etc. !




The old cameras have always made such a camera typical noise when shuttering the camera, this can optionally be activated in Desktop-OK when making a desktop screenshot under Windows of the complete desktop / screen or of an area of ​​the Windows desktop.



 

Please start DesktopOK, activate the screenshot function, and also the camera noise if you wish. It is very practical to get the feeling that something is happening because of the camera click sound.




(Image-1) Camera Sound in Windows Screenshot Feature!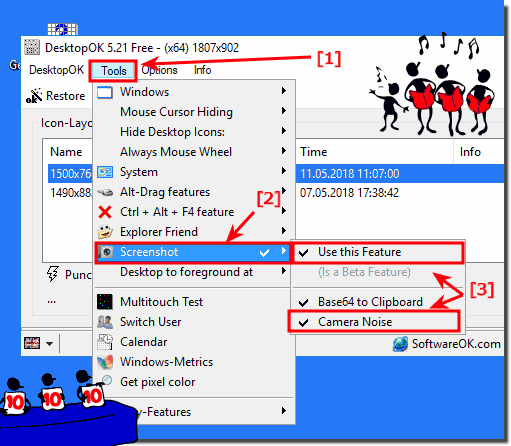 Camera shutter sound = camera sound = screen camera sound = camera shutter sound =  sound effect of camera shutter


Top User Questions! 
The sound effects for screenshots can be very disturbing and loud at certain times. How can I turn this off? It makes the sound even if my volume is down?


Info:

You can easy enable or disable this sound effect for screenshots also on older versions of Microsoft's Windows operating systems, whether it's a Windows desktop, tablet, Surface Pro / Go, or even a server operating system. Depending on whether you want to work with or without the virtual camera noise, regardless the quality of the screenshot remains untouched regardless of whether with or without sound. 


FAQ 31: Updated on: 28 August 2023 08:29