If you have read the instructions and have not found any duplicate pictures from your iPhone, this question arises!


But the rule is different, many iPhone disciples are very satisfied, especially the hybrid smartphone and iPhone users, who use both devices for business, private, ... or other reasons, positive feedback has always come back here, but now it remains important question, why can't I find duplicate pictures from my iPhone!




Content:




1.) Wrong settings because you have not set too small a tolerance!
If necessary, activate the options rotated, mirrored and negative image searches, by pressing the start button you simply start the search for the double images or similar images. Set to similarity 90% find images with high similarity, with 100% only duplicates, but 90% is a good value for beginners with the image comparison software! 
(
... see Image-1
)
It is really very useful and advantageous to use this photo comparison program when you shoot thousands of photos to compare them for similarities. 
(Image-2) Find easy duplicate of pictures based on Similarity!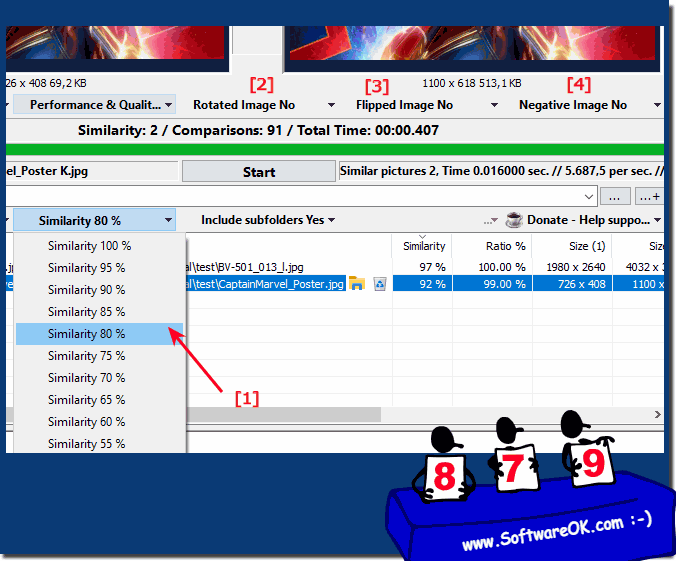 ......

2.) There are simply no duplicate pictures on the iPhone!

It is not uncommon to accept a simple fact that you don't take as many photos as you thought and that you don't have duplicate or similar images / photos on your iPhone is also a shame. You are simply a too orderly person who naturally does not take duplicate pictures.
  


3.) What else should I consider with the image comparison software?
It is important that you experiment with the different setting positions for the image comparison software and that you simply look into the fact that you are not taking as many photos as you thought. Of course, if you only have 10 to 100 pictures, you cannot find duplicate pictures. However, many have photos on their iPhones and benefit from the large amount of images that can be compared quickly, it also works really well to compare all photos with so little effort after the vacation, wedding, christening, or other events, especially when you've made thousands. 


 



FAQ 21: Updated on: 30 August 2023 14:32