Start the program Find.Same.Images.OK select the options, if you want to compare folders with folders or Compare all (... see Image-1 Point 1 )!


Press the Start button (... see Image-1 Point 2)  and simply start the search for the double and similarly images. Set the similarity tolerance before you start the scan ergo search. (Image-1 Point 4)

You can also activate the options rotated, flipped (mirrored) and negative image search if necessary!
(... see Image-1 Point 3)

When the image search is completed, you can select the images in FSI.OK by checking the check boxes and then select the desired operation. Or you just let the worse or better pictures by the program itself. (... Image-1 Point 5)


Helpful information can be found here in the: ► ... Find.Same.Images.OK FAQ!
or on ►  ... Find.Same.Images.OK Homepage!



(Image-1) A simple usage example of Find.Same.Images.OK!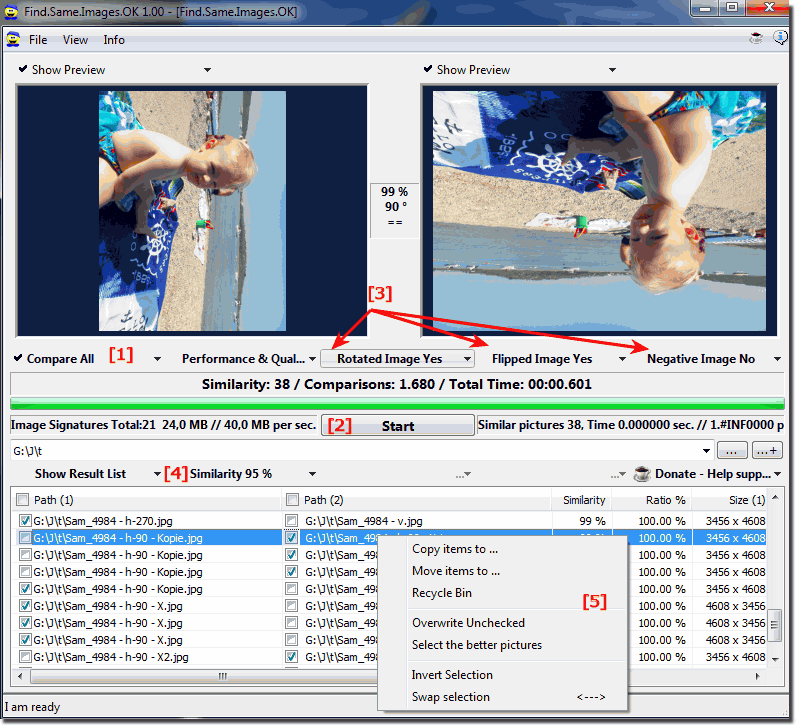 You can use Find.Same.Images.OK for free to quickly find the same or similar images, whether those photos are rotated, mirrored, zoomed out . 
FAQ 9: Updated on: 11 October 2018 09:55