The docking / snapping of the windows, loved by some Windows 11 users, but is only annoying for some other users, good that you can deactivate and activate it!
Content:
1.) Deactivate the window docking function under Windows 11!
1. Start the Windows 11 settings as usual (
Windows + i
)
2. Via ►
System
 ►
Multitasking
3. Simply deactivate or activate the
snap windows
(
... see Image-1 Point 1 to 4
)
(Image-1) Deactivate docking / snap in Windows 11!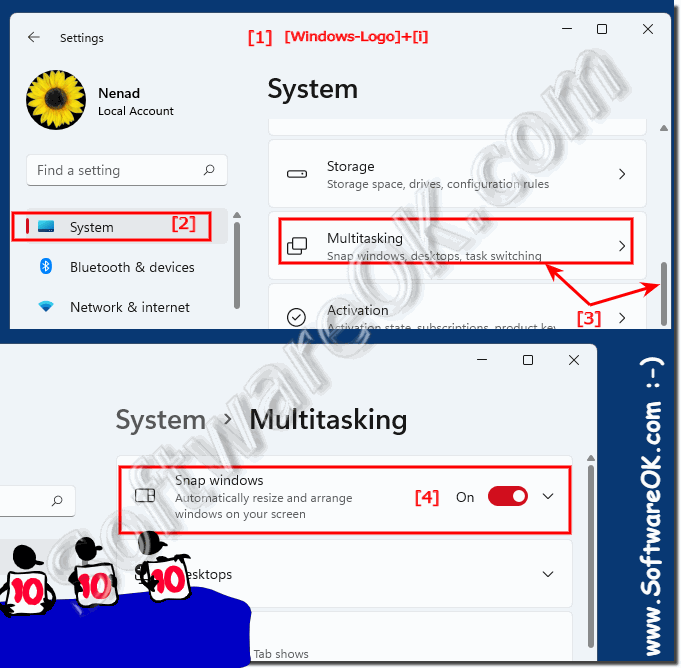 Dock Window is a feature in Windows 11 that allows you to drag windows to the edge of the screen to automatically position them or arrange them in a split view. Here's how to customize or disable the window docking feature in Windows 11! Manually dock windows: If you want to disable the automatic docking feature for windows, you can simply manually drag windows to the desired location on the screen without dragging them to the edge of the screen.
Depending on your version of Windows and your specific needs, the exact steps to customize window docking may vary. Please make sure your Windows 11 is up to date as settings and options may change between versions.

2.) Why should you deactivate the window docking function in Windows 11?
Disabling the window docking feature in Windows 11 can be useful in certain situations, depending on an individual user's preferences and work habits. Here are some reasons why someone might choose to disable this feature:
Preference for manual window placement:
Some users prefer to manually position their windows on the Windows 11 desktop rather than using the automatic docking feature. This may be especially true when they prefer specific window arrangements or sizes.
Multitasking requirements:
If you have many windows open simultaneously and need to switch between them quickly, the docking feature can sometimes be cumbersome. In such cases, manually moving and arranging windows can be more efficient.
Better control over window alignment:
Disabling docking gives you full control over how windows are positioned on your Windows 11 desktop. This can be particularly relevant for users who employ specific layouts or screen arrangements.
Avoid accidental docking:
Occasionally, the docking feature can cause windows to unintentionally snap to the edges of the screen, which can be frustrating and trigger unintended actions.
Habits from older Windows versions:
Some users are accustomed to the operation of previous Windows versions and may prefer to maintain those habits rather than adapting to the new Windows 11 docking functionality.

It's important to note that disabling the window docking feature can also have some advantages, especially for users who desire more control over window placement. However, for other users, docking can be a helpful feature as it facilitates multitasking and efficient window organization. Your decision to enable or disable this feature depends on your personal preferences and work requirements.