You just want to change the PayPal password, which is not wrong from a security point of view, but what is the question!?
1.) PayPal makes it easy to change your current password!
1. ►  Log in to your account with your current password

2. Once logged in, click in the top right corner of the PayPal user icon,

3. To open "Profile and Settings" .

4. Click on the "Login and Security" tab on the left side of the page

5. And in the Password area on the text: "Change"

(... see Image-1 Point 1 to 8)




A Change Password window opens. In this window, click on the "Current Password" field and enter your current PayPal password. Then click the New Password field and enter the new password you want to use with your account.

 

Click the Confirm New Password field and re-enter your new password. Then save your changes by clicking "Change Password" below .



(Image-1) Easy change the PayPal password!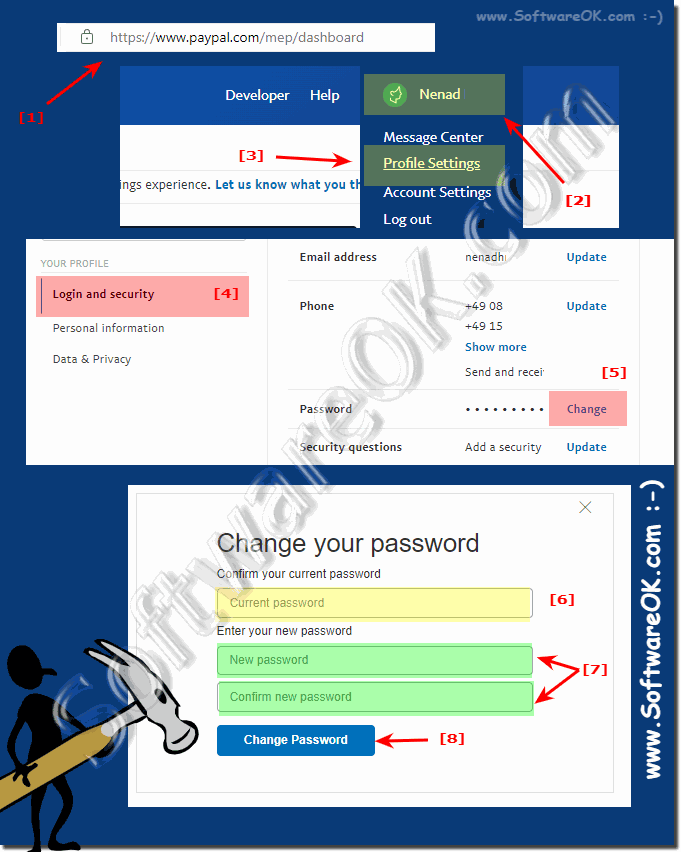 2.) What should I consider when changing my PayPal password?
To allow you to use a stronger password on your PayPal account, you can currently only do so from PayPal's website and not the mobile app. 

Start the password change process by opening a web browser on your device and opening the PayPal website. Log into your account with your current password from any modern browser, regardless of whether it is EDGE, FireFox, Chrome, .... etc. However, the browser should be up to date. 

Only change the password on secure devices, preferably on your home PC with the current browser software and updated operating system!
  





FAQ 18: Updated on: 8 June 2022 10:58