In order to change the zoom or magnification in Windows Internet Explorer 10 and 11, you do not have to go to training!


In Internet Explorer, browsing the web can be improved by zooming in on the content. The standard zoom level can be reset to the zoom factor 100% in this standard Windows browser by pressing the keys Ctrl + 0 [NULL].

Please press / click on the settings symbol in MS IE 10 ( ... see Image-1 Arrow-1 ) and you can adjust the zoom.
( ... see Image-1 Arrow-2 and 3 )

But it also works with the key combination  [CTRL] + [+]  to enlarge the view, or  [CTRL] + [-] to reduce the Internet page in Internet Explorer 10!

CTRL and Plus = larger font in Internet Explorer!
CTRL and minus = smaller font in Internet Explorer!



Image 1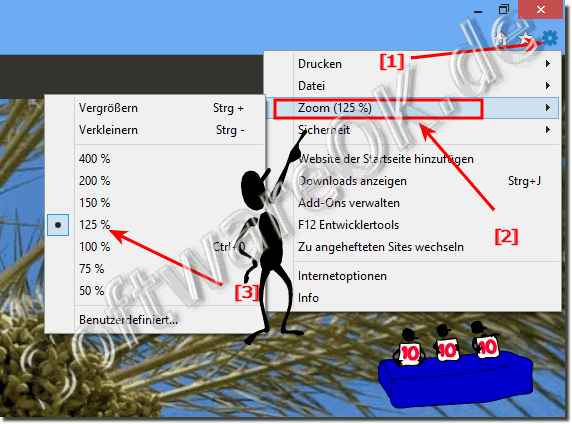 Enlargement in MS Internet Explorer 10 for Windows

Image 1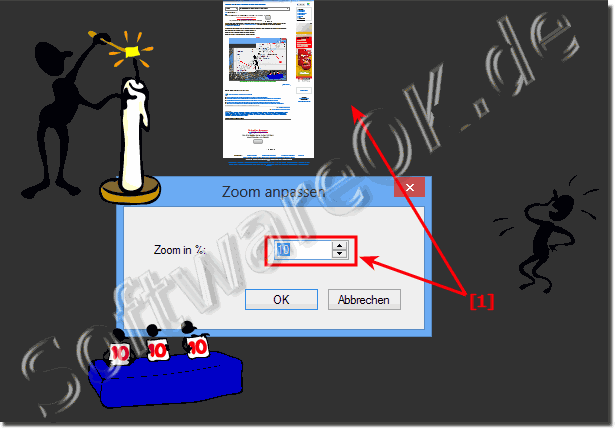 Custom zoom in Internet Explorer 10




Many users have found their companion through the Internet while using Internet Explorer. Changes to the page scaling can also be determined and adjusted according to user needs. This is due to the display option and the adaptive zoom function (from the English zoom).

With the zoom function, you can enlarge or reduce the page to improve readability. Therefore, the feature is very useful on devices with large and small screens as it allows the page to be enlarged or reduced at any time while maintaining the original scale.

See also: ►  Change font size in Explorer ?



What you can expect from this iExplorer zoom function!


When you use this feature, IE resizes text and images and redraws the page for better readability. In most cases, you won't see a horizontal scroll bar.

The adaptive zoom feature in Internet Explorer 11/10/12 is based on the concept of scaling elements from the ground up. This behavior is fundamentally different from the old approach in Internet Explorer, e.g. 7.0 and 6.0!

It's like a Windows screen magnifier that enlarges everything on a percentage scale, not just the text.

The great thing is that it doesn't matter if it's --- OS_Windows 6.1S ---, or another Windows operating system, it works anytime and anywhere from IE 8.

See also: ► Change the system fonts, titles, captions, menus, icons in Windows 10, 8.1 !

FAQ 42: Updated on: 28 November 2020 09:28