Under MS Windows 11 and 10 you can indirectly
change the font size in File Explorer

, the Internet Explorer has its own page settings!

Content:
1.) General font enlargement in Windows 11 and 10!
1. Simply use shortcut  
Windows logo + I
 and enter 
dpi
2. Adjust the  size of text and other elements
3. or to open the settings
(
... see Image-1 Point 1 to 3
)
(Image-1) Change the font size in Explorer on Windows 10!


Now simply increase the scale on the screen (
... see Image-2
)
(Image-2) Font size in Windows 10!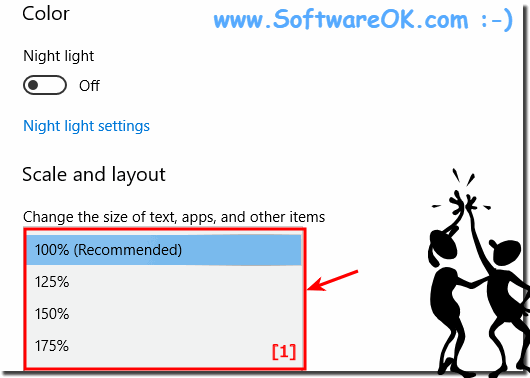 Many users have a need to make the font larger when using File Explorer. 
With the Windows-10 DPI Zoom feature, you can not only magnify the font, but also all the elements on the screen to better recognize them. This feature is very useful on notebooks, laptops, and other devices, such as the MS Surface Pro, because it allows you to zoom in or out of screen content at any time while maintaining your original scale. 
2.) Font size / page settings in Internet Explorer on Windows 10!
In the Windows 10 Internet Explorer, the font size can be increased or decreased by zooming of the content. The default zoom level can be reset to 100% by pressing Ctrl + 0 [NULL]. 
Press / click on the settings icon in the MS IE 10 and you can adjust the zoom.
However, it also works with the key combination [CTRL] + [+] to enlarge the view, or [CTRL] + [-] to zoom out.
(Image-3) Change the font size in Internet Explorer!