The solution is very easy to disable or activated paragraph formatting characters in MS Word, or to reactivate (turn on / off)!




 

 

Content:

1.) Paragraph characters activated in MS Word!
 

The complete disabling and activating of the formatting marks is quite easy via the MS-Word ribbon in the tab Home to the section paragraph and clicks there on the paragraph format character.
( ... see picture-1 point 1 and 2 )

Optionally, you can also use the keyboard shortcut CTRL + SHIFT + * , which is also useful if the ribbon is hidden in full screen mode.



(Image-1) Activate Paragraph format characters in MS Word!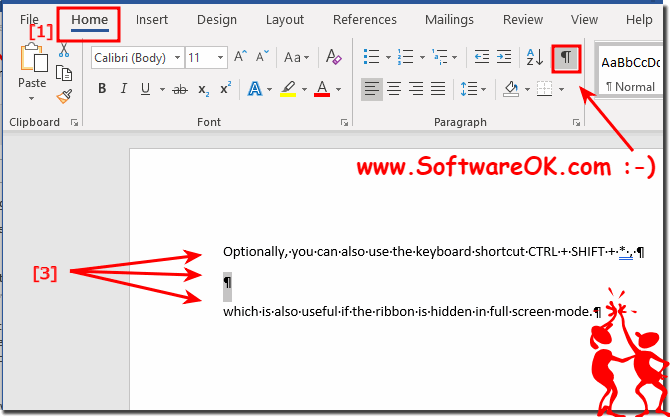 Not all markers are displayed, most are hidden so as not to confuse the user because the formatting marks in the text are very annoying. They can be activated individually according to preference, or deactivated again.

In MS Word it is quite simple do a "Right Click" ► "Customize Quick Access Toolbar Options"

In the MS Word Options select tab "Display" 
(... see Image-2)



(Image-2) Quick Access Activate format characters in MS Word!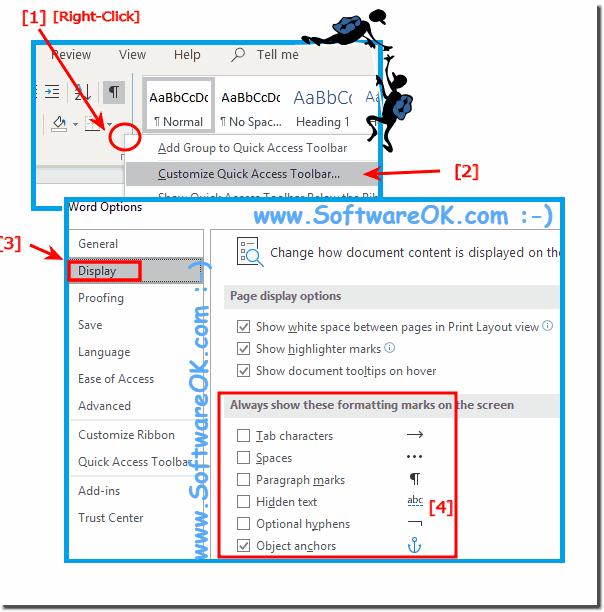 Of course, few use and know these signs, the so-called formatting marks in Microsoft Office Word.
For some users, they are certainly useful and practical, since you know exactly where what happens and it does not come to the wrong expression, or  unnecessary paper waste , but for most, they are just annoying and annoying.
How to turn off or hide the formatting characters in Word totally, or only partially, is no longer a problem.

Word formatting marks are symbols or characters used in word processing programs and various text editors such as Word to format text and assign special attributes to it. These characters serve to emphasize the text, change its structure and improve its presentation.



2.) Advantages and disadvantages of formatting characters in MS Word!

Formatting characters, also known as "non-printing characters" or "control characters," are symbols in Microsoft Word that indicate how text and paragraphs are formatted. They are useful for monitoring and editing the layout and formatting of a document. Here are some pros and cons of using formatting characters in MS Word:

Advantages:

Formatting Visibility: Formatting marks make formatting visible, making it easier to spot and correct errors or unwanted formatting.

Control over formatting: Formatting marks allow you to exercise precise control over the formatting of your document, such as: E.g. paragraph marks, line breaks, spaces and tabs.

Efficient editing: You can make targeted edits to text or formatting by viewing the formatting marks instead of deleting or reformatting text.

Prevent formatting problems: By viewing the characters, you can prevent unwanted formatting, such as double spaces or paragraph marks, from entering your document.

Teaching Aids: Formatting marks can be helpful in teaching others how to format correctly in Word.

Disadvantages:

Distraction: Some users find formatting characters annoying or distracting and prefer to turn them off to focus on plain text.

Confusion for Beginners: New users of Word can be overwhelmed by the many different characters and symbols, especially if they don't understand what they mean.

Aesthetics: Displaying formatting marks can affect the appearance of your document because they are visible and not intended for final printing.

Usability in printed documents: The formatting characters are not intended for printing and should be hidden in printed documents. If you forget to do this, they can be disruptive in expression.




Overall, formatting marks in Microsoft Word offer many benefits, especially when it comes to monitoring and editing the formatting and structure of a document. However, the disadvantages can arise when they distract or spoil the appearance. The use of formatting characters should be balanced depending on the user's needs and preferences.





FAQ 13: Updated on: 30 October 2023 21:39