It is very easy to
print only the selected text in MS Office Word

, to avoid wasting paper pages!



Please first select the section of the text to be printed, for example, hold the left mouse button and drag the mouse to highlight the text to be printed in the MS Word document ..

Now on the file in the menu / tabs above left! (

... see Image-1 Point 1

)

and select "Print selection"!  (

... see Image-1 Point 2 and 3

)

See also: ►►

 Cancel all printing orders in Windows 10 via print service?

!


For proofreading, a control expression is often better suited than the screen. However, if you have already corrected large parts of a text, it would be a waste of paper to print out every page of the document after each addition.



Addendum:

To specify multiple text areas, you can hold down the Ctrl key after marking and select additional text areas!

(Image-1) Print only the selected text in Office Word Document!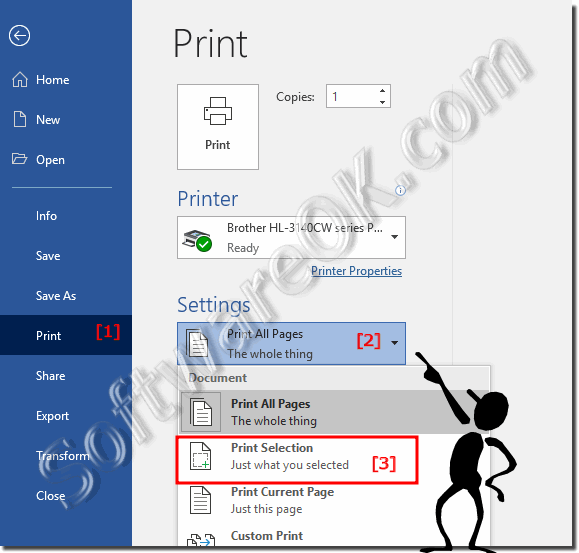 For fun Readers:

Even printing the complete, last edited page would be too much. Therefore, it is good to know that Word prints on request only the currently selected text is super ok to Select the text you want to print. So only what you are interested in appears on the paper ;-). You have created a page in Word or a similar program, such as MS Office. Now you want to print your created document. Therefore you go to "File" and then to "Print". Directly you can print your page. But when the sheet is printed, you quickly realize that not all of the data you saw in the page layout was printed. This is often because the print area is less than the page area.This means that a printer can only print on a certain area. Many models work with a small border, which of course you will not see when printing, but which is important for paper feeding. If characters now protrude beyond this edge, the printer can not print on them. Of course, there are also printers that can print border less . However, these are more expensive in the trade and often only useful if you print flyers, posters or pictures. The print area also includes what you specify . So which area of ​​a sheet should be printed out. Sometimes you only want a specific page or section. Accordingly, you can specify the print are a and work with it. In this respect, the print area is both important for the output, as well as your personal needs. 

FAQ 16: Updated on: 4 September 2022 19:21