Changing or updating your email password / password in MS Outlook is easy if you've done it before!


Content:



1.) Changing the password in MS Outlook!
1. Start your MS Outlook as always

2. Go to "Account Settings" via "File"

3. Mark the relevant email account and click "Change"

4. Use the "Next" button

(... see Image-1 Point 1 to 4)

PS:
If the current password is incorrect, you will be prompted to enter the new password, if it does not only appear that the account has been updated successfully!
 


(Image-1) Change or update the email password in MS Outlook!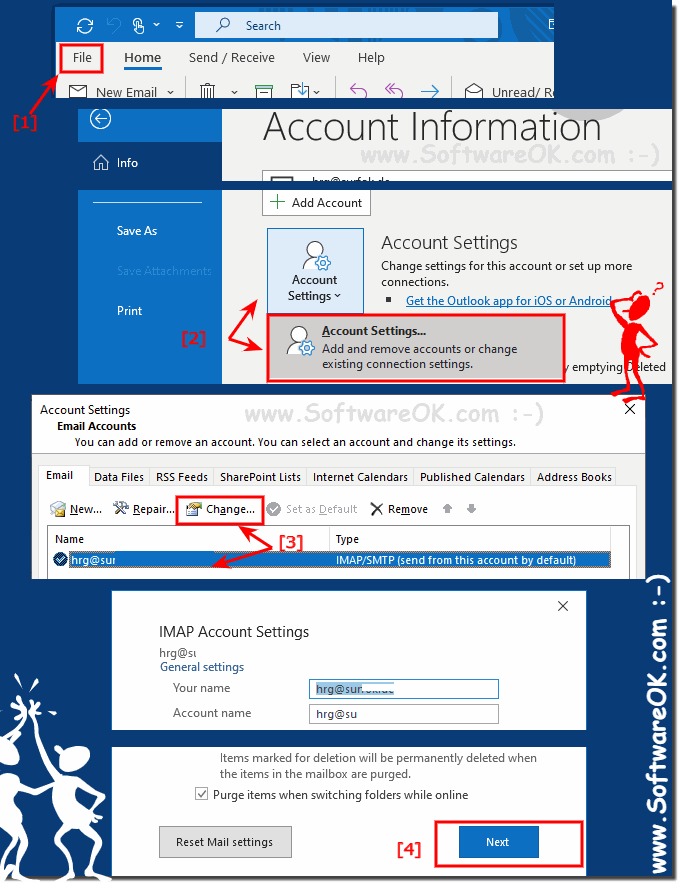 2.) Forgot the Outlook.com password! 
Outlook cannot change the password with your email provider. In other words, if you forgot your Outlook.com password, you must first see the Change Your Outlook.com Password section to change the password for your account, and then update the password in Outlook for Windows.

Outlook: ►► Microsoft Account Security and select Password Security .

Gmail: ►►  http://mail.google.com/

Yahoo Mail: ►►  https://login.yahoo.com/ !

So always with the respective provider follow the instructions for changing the password of your e-mail account on the provider page, or to the help desk of the e-mail provider.





FAQ 39: Updated on: 3 March 2021 10:32