With Windows 10, 8.1, it is easy to save individual favorite columns in the Quad Explorer with current view! 
The
option to save columns in Q-Dir
has been around for a very long time, the behavior is slightly different than in the
standard file explorer
, as from version 7.89 you have another option to save the view setting and certain columns, these columns can be loaded at any time. Whether you're working on a native Windows desktop computer, on a tablet PC, Surface Pro / Go, or on a server operating system!
Content / Solution / Tips:
1.)
Saving and loading of the individual columns and view setting!
1. Start the
Quad Explorer
2.
Adjust the view settings
(Details, Large icons, ...) 
3. Select
the appropriate columns, eg for media
4. Hold down the
Ctrl Key
and click with the
right mouse button
 on the column Header
5. Select  "Save" and give a name 
6. To load the columns, repeat the Point 4. again
7. And just load the columns and view settings 
(
... see Image-1 Point 1 to 8
)
Granted, there are already a few moves, but everyone knows how long it takes to set different individual
file explorer columns
, especially with a certain column width, it can take a while, now you can choose your favorite columns with the appropriate width and view Quickly reload and use settings with just two clicks.
(Image-1) Save individual columns set and file explorer views under Windows!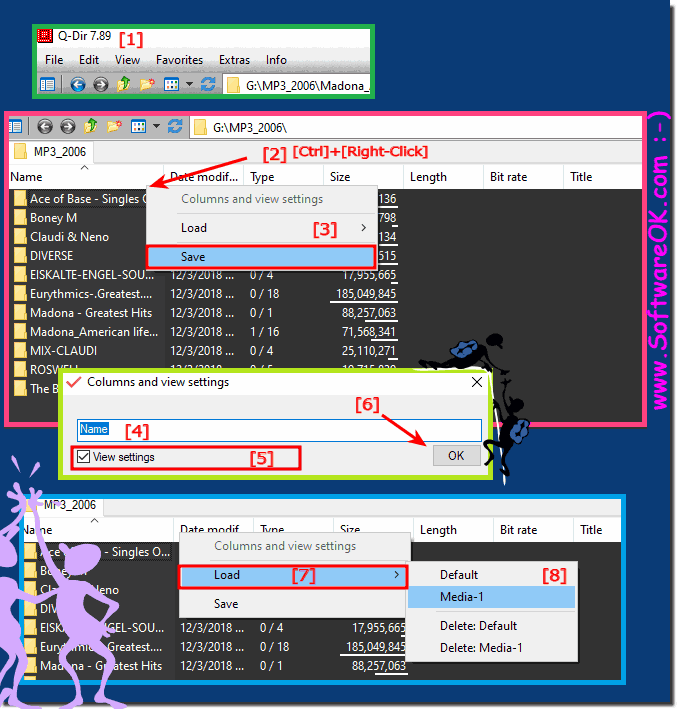 2.)
Why this individual column and view storage?
Saving and loading is very useful, especially users who work a lot with media (images, audio, video) sometimes need not only the standard columns, but also individual media columns to get important information about the content (image width, sampling rate, Resolution, length / duration, artist, rating ...), but these can be very time intensive for normal management of the data (move / copy) also a hindrance, for this reason, you can now quite quickly switch between the individually created columns, At best a default columns group, audio, video, photos, etc ....       
(Picture-2) Custom column in File Explorer Views!