The solution is simple to create a non-compressible file with NonCompressibleFiles freeware for all Windows OS and Server!



Contents:



1.) Creating non-compressible files on all Windows desktop and server PCs!
1. Please start NonCompressibleFiles and  select the File - Type: Not Compressible File

2. Select the Destination Folder ergo Output Folder

3. The number of files to be created

4. The size of each file

5. And click or tap the Button Start 

(... see Image-1 Point 1 to 5) That is it ;-) See the Result (... see Image-2)

Please always ... use the latest version of NonCompressibleFiles!




(Image-1) Create a non compressible file with this software!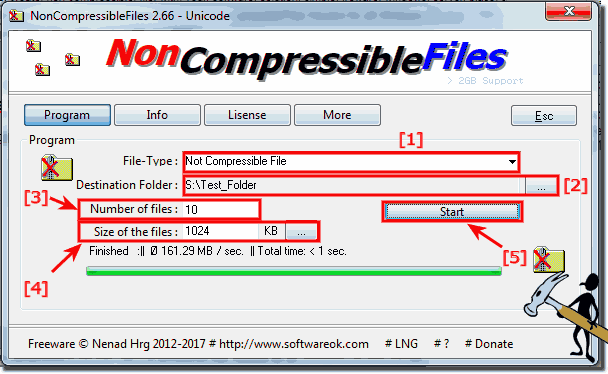 (Image-2) Not-compressible file!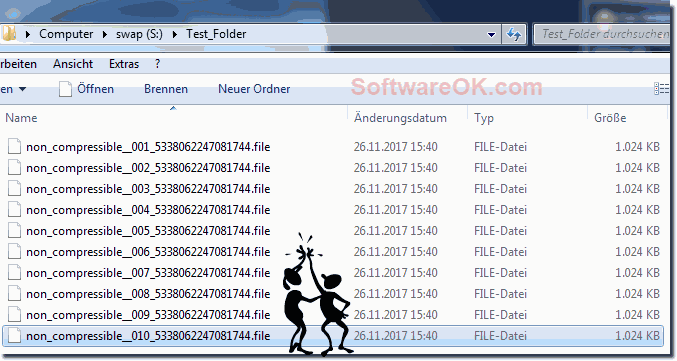 2.) What are the dangers of creating non-compressible files?

Creating uncompressible files can pose some potential dangers and disadvantages depending on various factors. Here are some of the key considerations:

Disk space consumption:
Non-compressible files typically take up more space on your storage media than compressed files. This can result in faster consumption of storage space and increase data storage costs.

Transfer Speed:
If you need to transfer uncompressible files over the Internet or a network, this may result in slower transfer speeds due to their size. This can be particularly problematic with large files.

Backup costs:
If you back up your data regularly, non-compressible files require more space on the backup media, which increases the cost of data backup.

Slower access:
Reading and writing non-compressible files can take longer, especially if they are very large. This can impact performance, especially on slower storage media or when using network storage.

Limited storage space on mobile devices:
On mobile devices with limited storage space, such as On some devices, such as smartphones and tablets, uncompressible files can quickly exhaust available storage space.

Redundant data:
Uncompressible files can result in redundant data being stored on your storage media, which can lead to wasted space and clutter.

Difficulties in data transfer:
If you need to send uncompressible files over the Internet or other media, you may experience difficulties in transferring them due to their size, especially if bandwidth is limited.




It is important to note that not all file types or data types can be compressed efficiently. In some cases, e.g. For example, with file formats that have already been compressed (e.g. .JPEG for images or MP3 for music), re-compression may result in loss of quality. In such cases it may make sense to leave files uncompressed. On the other hand, uncompressed files may be necessary in some scenarios to ensure data integrity, especially for certain file formats or applications where data loss is unacceptable.







FAQ 4: Updated on: 10 October 2023 05:27