Who wants to use a proxy server wonders where are the settings on Windows 11, 10, ... Desktop or MS Server operating systems!


Contents:



1.) The proxy settings classic!
1. Directly to the Internet Options as described here: ►► Open Internet Options  ◄◄ All Windows OS

2. Or Windows + R inetcpl.cpl

3. Now simply click on the  Connections tab

4. 

LAN Settings

button

5. Now you can configure the proxy server or use scripts for automatic proxy configuration

(... see Image-1 Point 1 to 5)




(Image-1) Use proxy server on Windows 11, 10, ...?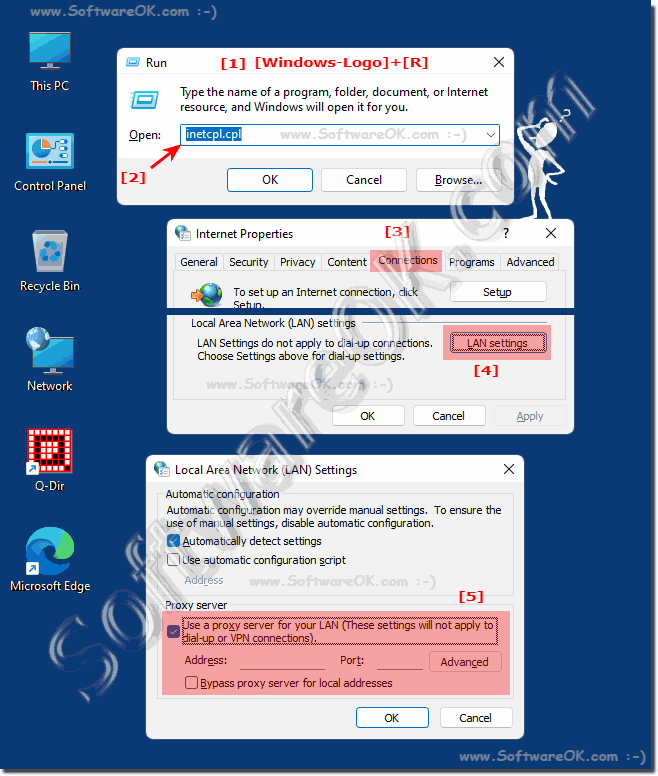 2.) New proxy settings on Windows 11, 10!
You don't have to click through the settings, you just use:
ms-settings:network-proxy 

1. Via the Run dialog that can be easily called with Windows + R

2. Command  ms-settings:network-proxy

3. And the proxy settings adjust 

(... see Image-2 Point 1 to 3)

Here you can set up "Use Proxy Server"  and whether an automatic detection should be used or not! 




(Image-2) Use proxy server script on Windows 11 and 10!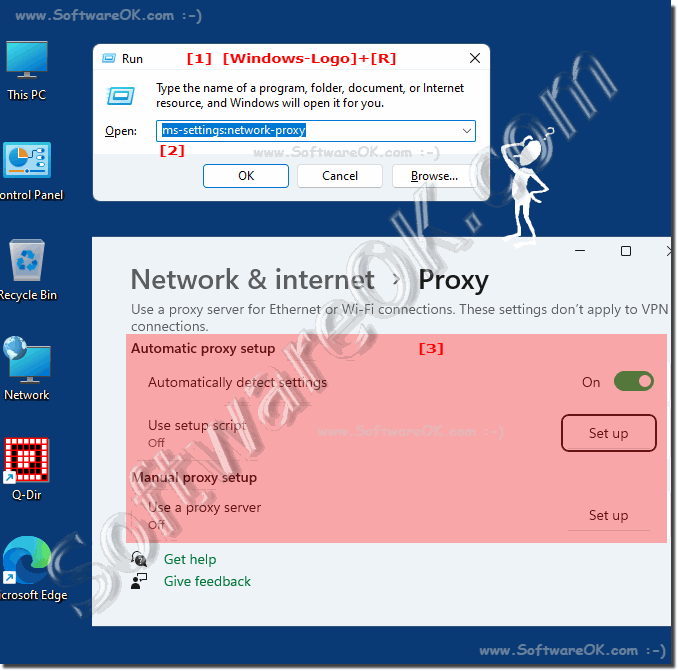 3.) What should be considered with the proxy settings?

If an incorrect proxy is entered, you can no longer open Internet pages, the Internet does not always become faster, especially if the proxy server is overloaded! The settings are not only valid for Internet Explorer, even Chrome, Edge, and Firefox, ... adopt these settings, because they are valid in the entire system world, i.e. not only for IE, just proxy settings and others are in Microsoft Windows Desktop and server OS heavily branched!



4.) More tips on proxy, network and Co. on MS Windows OS!
A proxy or a proxy server can be seen as a door, passageway or lock between you and the Internet, whether Windows, MAC-OS or Linux doesn't matter, here are other related tips that may be of more or less interest to you could!




FAQ 4: Updated on: 28 July 2022 05:37