If you like, you can import the commands from the Backup Ini file in the program QTP as of version 4.11!




If you use different profiles for text selection fields and Windows command which can be accessed by keyboard shortcut It is handy if you can import them. In one of the following versions I will expand it so that you can do it directly in the program and switch between the profiles, for now this simple solution via the backup function.



 

Content / solution / examples:


1.) Importing the *.ini file!
Simple click or tap on Options Menu in QuickTextPaste select the menu entry Backup!
Select / Activate the Option Import from old ini (... see Image-1)



(Image-1) Import Text and Windows Commands from old ini file!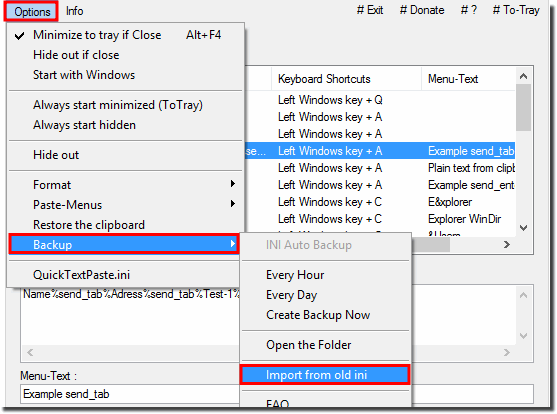 2.) Activating the Auto Backup function in QuickTextPaste!
Please click or tap on Options Menu in QuickTextPaste select the menu entry Backup!

The Program will auto create the Backup Folder and auto save ergo create a backup of the QuickTextPaste.ini with the Timestamp (Reverse-Format) in the File Name. Not lost the Windows text snippets and command  that make the work on Windows PC faster and save so much time. 

Activate: 
If you want to see or delete backups select the menu entry Open the Folder! 
You want to create an auto backup every hour or on time per day please select this option!

Over the menu entry Create Backup Now you  can create a backup immediately 

The Auto-Backup will be create only if change or add new Commands and taking into account the personal settings.
    
(Image-2) Auto Backup Feature in QuickTextPaste!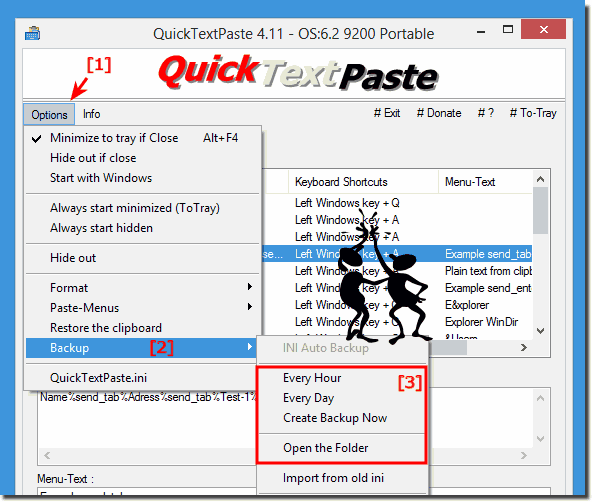 Transfer Quick - Text - Paste settings or texts to from one to another PC!


Please use the Backup Feature in:


and send the settings for example by e-mail or save to a USB stick and then you can import on others computer 



Easy, Smart and clean solution!



FAQ 31: Updated on: 13 July 2018 20:40