StressMyPC is suitable as a
stress test at the overclocked graphics card

to get the GPU to crash if the GPU frequency is set too high!

Content:




You must not test the overclocked graphics card with extreme games, or other software to bring the GPU to crash. In general, you can any graphics card overclock by 10% to 20%! 

If the graphics card is not suitable for the new frequency, it comes after 10 seconds paint stress via StressMyPC to crash of the graphics card! Then the operating system must be restarted!

With new graphics cards, there is a auto-protect device, that automatically set the default frequency!


1.) Stress Test for the GPU on Windows!
When testing the GPU, please disable (turn-off) the CPU and HD test! (... see Image-1 Arrow-3)  and activate only the paint-stress. (... see Image-1 Arrow-2)  and start the stress test (... see Image-1 Arrow-1) . It is also important that the StressMyPC window is maximized, so fills the whole screen :-)!






(Image-1) Stability test for the overclocked graphics card!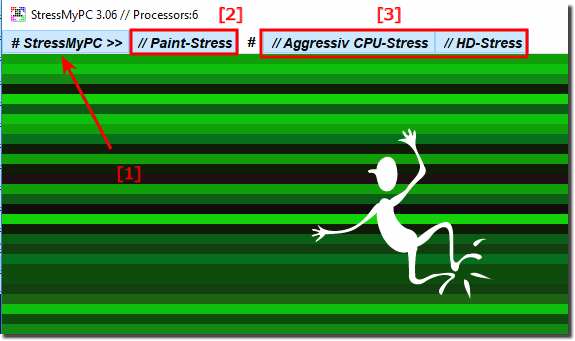 2.) Monitor GPU usage in Windows 10 Task Manager, so can you do that!

This information is available in Task Manager, although it is hidden by default. To access it, open Task Manager by right-clicking an empty area on the taskbar and selecting "Task Manager", or by pressing Ctrl + Shift + Esc on your keyboard .

Left-click the full view of Task Manager on the Processes tab,

right-

click

any column heading.

Then activate the option "GPU". This will add a GPU column where you can see the percentage of GPU resources used by each application.

You can also activate the "GPU module" option to see which GPU module is used by an application (3D and, in the case of several graphics cards, the GPUs).

(... see Image-2 Point 1 to 2)



(Image-2) Use GPU and 3D in Windows Task Manager!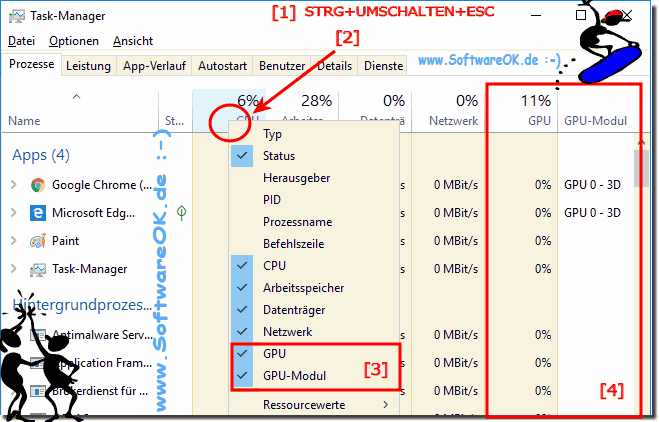 Info:
The GPU Engine column is displayed when an application is used.
This shows you, for example, whether the 3D or the video decoder is used.
You can see which GPU is in use with a specific number. 




3.) Why does the graphics card monitoring not work on some computers?
In Windows 10, this information is only available in Task Manager for WDDM 2.0 GPUs.
If you don't know if you have it or if your GPU supports it, you can easily check it!

If you see a "WDDM 2.x" driver here, your system is compatible.
If you see a "WDDM 1.x" driver here, your GPU is not compatible.

Is described here exclusively:

FAQ 2: Updated on: 20 July 2021 19:04