Yes, with older operating systems that are not up to date, such as Windows Server 2000 or Windows XP, the gdiplus.dll is missing   in the C:/Windows/System32/ folder!
Some programs have the gdiplus.dll in their own working directory! Which is not entirely legal, as you are not allowed to distribute the gdiplus.dll for legal reasons, since you are not the author. As a rule, Microsoft turns a blind eye to this, or both, but it is not legal.

You have to download gdiplus.dll from MS and simply copy it to C:/Windows/System32/, preferably the latest version, because gdiplus.dll is downward compatible. Thus, all programs benefit from it and it does not have to be senselessly in umpteen copies on the hard disk!

From Windows XP with SP3 this is no longer a problem because the operating systems Vista, Windows 11, Windows 10, Windows 8.1, etc. always have them with them!

Why do I use it in my programs!
The 

GDI ++

is simply super fast and can be used anywhere on current Windows operating systems. The GDI ++ owes its speed to the Direct-X from Microsoft. Here, some of the tasks are automatically shifted to the graphics chip; not using the GDI ++ is almost irresponsible.

It is used by  ... WinScan2PDF  ,  ... TheAeroClock , ...! I use it to load the PNG and JPEG images! 




(Image-1) gdiplus.dll in System32 Folder on MS Windows 11, 10, ...!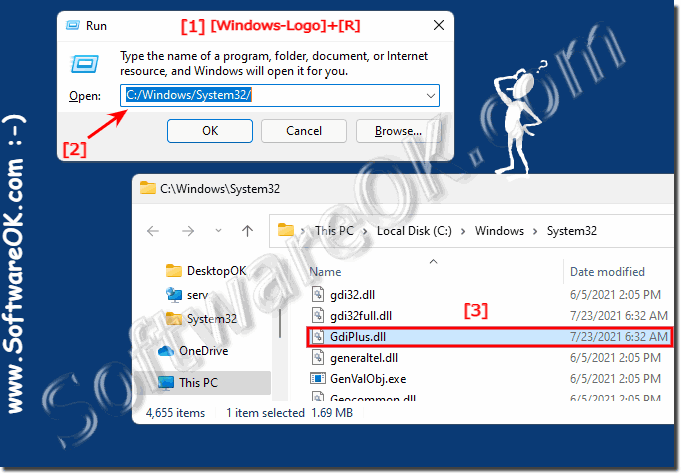 FAQ 71: Updated on: 11 August 2021 14:09