Changing the
default storage location or folder for scanned documents

it is possible from WinScan2PDF Version 3.77!



The scans are saved by default in %TMP%/WinScan2PDF_Tmp

 

From the version you can change if you want.

About the ► Main menu ► Options ► Change the folder (

... see Image-1 Point 1 and 2

)

Please use 

... always the latest version of WinScan2PDF. 

(Image-1) Change the default location for scanned PDF documents!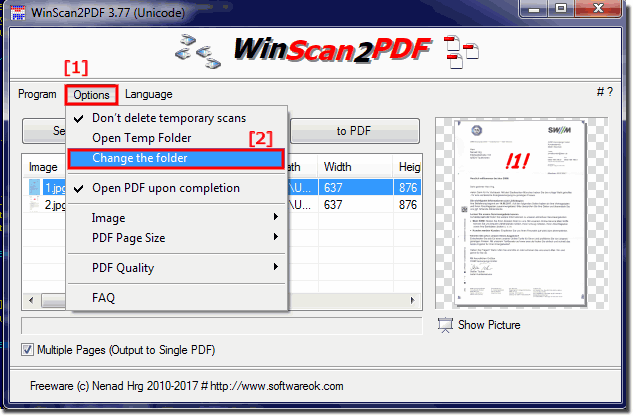 I recently redirected the Documents folder from some profiles to a new mirrored disk. I went to Windows Scan 2 PDF and it gave me an error message that it can not access scanned document folders. As far as I could see, it was redirected to the parent folder.

It turns out that Windows 10 or Windows 11 does not pass permissions to all subfolders. In example: "E:\Users\MyDocuments\Scanned documents". Although I am in the admin group, only special permissions appear. So I've added myself to each parent folder as a user and Windows Scan 2 PDF now opens and I can save the documents as default to the redirected location. Thank you!


Enable auto delete temporary scans at program end!



Please Start WinScan2PDF and open the menu item Options and select ergo deactivate the option:
"Do not delete temporary scans"

Please use ... always the latest version of WinScan2PDF.  



(Image-2) Auto clean up scanned JPEGs at Program end!


FAQ 11: Updated on: 31 May 2022 06:43