It is not uncommon for older scanners to have a gray cast when scanning white paper on Windows 11, 10, ... and MS Server OS!




Since the scanner is getting older and older, regardless of whether it is EPSON, CANON, HP, BROTHER, ... the light of the scanning lamp becomes weaker and weaker over time. It is a simple sign of age on the scanner; stripes and other errors can even occur during scanning. It is not the

WinScan2PDF program

!



Content:



1.) Solving the gray cast problem on white paper!
1. Start WinScan2PDF as always 

2. Go, for example, to Edit WIA profile

3. Press the

"Add"

button

4. Create a new scan profile with 25% more brightness  
(PS: here in the example EPSON XP-305 one from my old test scanners) 

5.  Don't forget

"save profile"





PS:

Use the new scan profile for your problem scanner. Fixing the gray cast problem on white paper is quite easy and is not so rare with older scanners!

(Image-1) Gray cast when scanning white paper!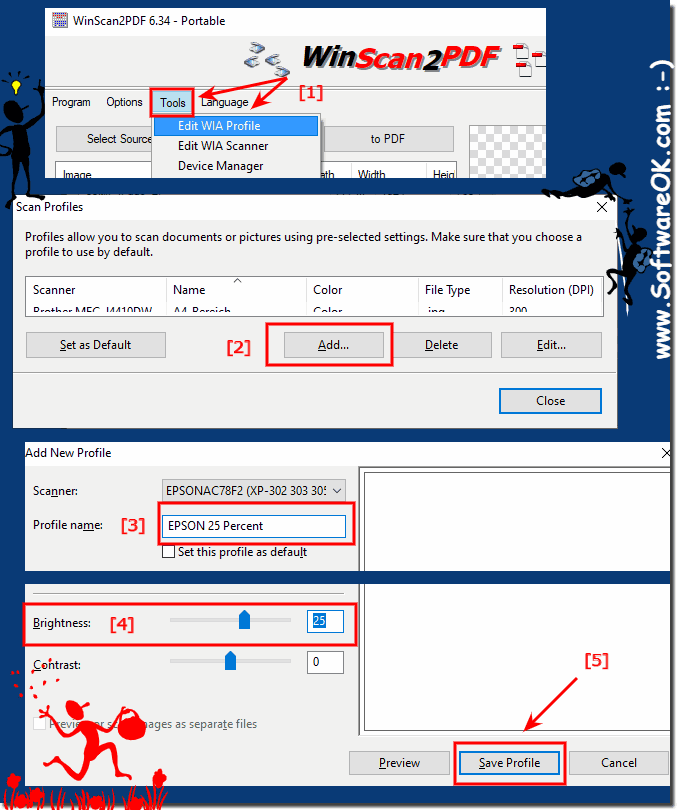 2.) Example when scanning with and without increasing the holiness by 25%!
Left with 25% more holiness on the EPSON XP-305 ( ... see Image-2 Point 1 )

Right scan with standard settings ( ... see Image-2 Point 2 )




(Image-2) Have a gray cast while scanning despite white paper?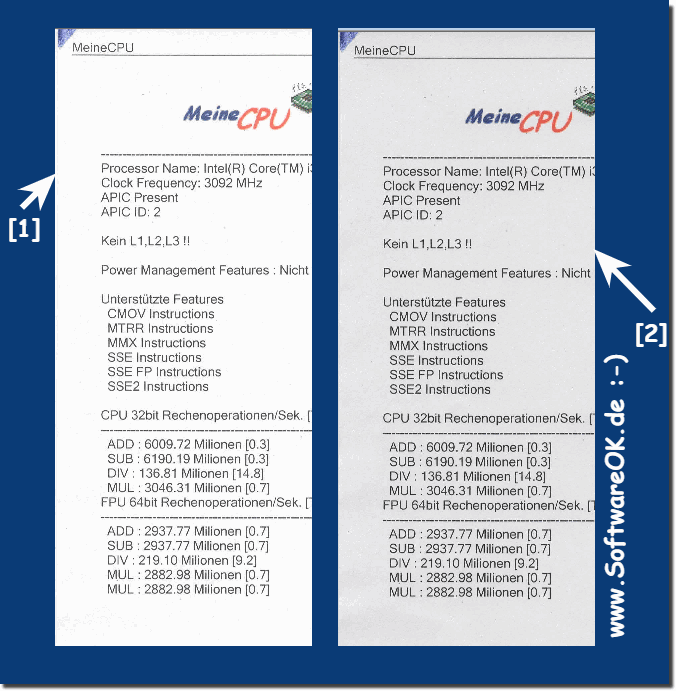 3.) What should I consider when increasing the brightness when scanning?
Check on the device whether the foil has visible contamination, also clean the glass surface in the scanner and then make further copies before they change the sanctity. 

The brightness should only be increased so that the sheet becomes lighter, but the letters do not fade during scanning!

( ... see Image-2 Point 1 and 2 )




Next Technical tips Brightness, quality etc. when scanning? 

When increasing brightness when scanning, there are some important considerations to keep in mind to ensure your scanned documents have the quality you want:

Document type and content:

Consider the type of document you are scanning. Text documents typically require less brightness than photos or images.

Use Preview:

If your scanner has a preview feature, you can use it to check the effects of brightness adjustments on the scanned image before scanning.

Experiment with the settings:

For best results, we recommend experimenting with the brightness and contrast settings. Some scanners offer automatic settings that can be helpful.

Consider the purpose and intended use:

Think about what you want to use the scanned documents for. For example, if you are scanning documents for printing or archiving, you may need different brightness settings.

Scanner Calibration:

Make sure your scanner is properly calibrated to ensure accurate colors and brightness levels.


►►  Example Brother

original documents:
When scanning original documents, make sure that they are clean and free of dust and dirt, as these contaminants can affect the quality of the scan.

Post-Processing:
If necessary, you can use image editing software after scanning to further adjust brightness or make other corrections.



Storage Format:

Remember to select the correct file format and quality for your scanned documents. For text documents, a medium to high quality PDF format is often sufficient.
Check the results:




After scanning, check the results on your computer screen to ensure the brightness meets your needs before saving or printing the scanned documents.

Documentation:  If you frequently scan certain types of documents, consider the optimal settings to save time on future scans. By following these tips and adjusting the brightness to suit your needs and the content of the documents being scanned, you can ensure you get high-quality scans.













FAQ 28: Updated on: 2 November 2023 14:39