Cancel all printing orders in Windows 10

via print service or printer folder, 

if you've printed something by mistake!  



Content / Solutions:





Cancel printing in Windows 10, if you've printed something by mistake, you can cancel it, even if printing has already started on all Microsoft's Windows Desktop OS and also in Example on MS Server 2019, ... .





1.) Cancel all open Print Jobs on Windows 10!
1. Pleas open the Windows-10 Service Window via command 

services.msc

over Windows-10 Run Dialog (Windows+R)!

2. In the Service Window please select

Print Spooler

 and now stop the Service  and start it again :-) That is it. 
(... see Image-1)

Info:
Print Spooler service in Windows 10, spools print jobs and handles interaction with the printer. If you turn off this service, you won't be able to print or see your printers.



(Image-1) Cancel all printing orders in Windows 10!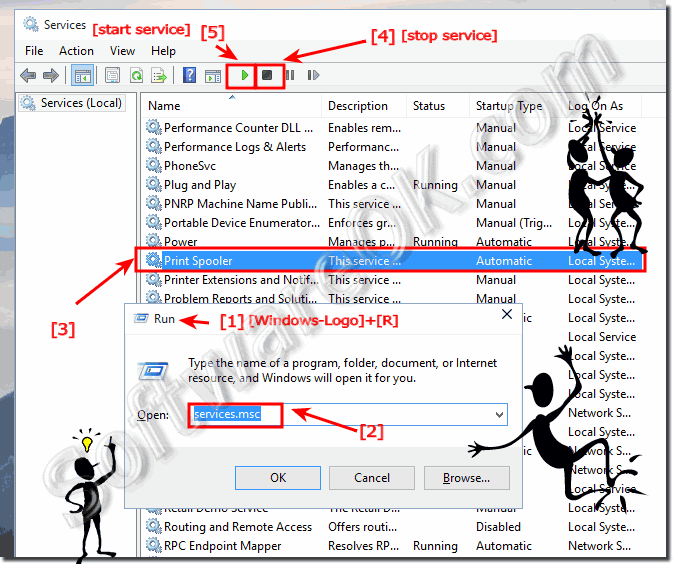 2.) Cancel Print Jobs for a specific printer on Windows 10!
Please open the Windows 10 Printer folder, via keyboard shortcuts Windows Logo + R and the command: shell:PrintersFolder

Double-Click (Left-Mouse) the printer that you're using,  select the Documents and do a Right click on selection, please select  Cancel to cancel / delete the selected print jobs (orders) in Windows -10.

You can also:

Pause printing
You can pause and resume printing a single document—or multiple documents in the queue.
Restart printing
If you suddenly realize you're printing in the wrong color ink or on the wrong size paper, you can start over from the beginning.
Reorder the print queue
If you're printing multiple items, you can change the order in which they print.
(Image-2) Windows-10 Cancel Print Jobs for a printer!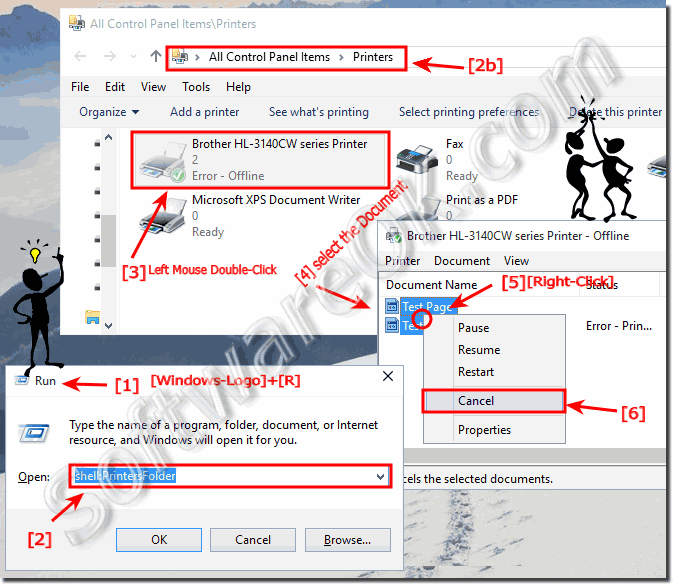 Note
To view your printer permissions on Windows 10, right-click the printer that you're using, click Printer properties, click the Security tab, and then click your user name.
After your document or photo has started to print, you can pause or cancel it in the print queue.
The print queue shows you what's printing or waiting to print. It also displays handy information such as print status, who's printing what, and how many pages are left to be printedt, and how many unprinted pages remain.
The solution is simple in Windows 10 and also suitable for Windows 7 / 8.1 / 8 and Windows Server 2016/12, whether it's a Windows desktop PC, tablet, Surface Pro / Go, or even a server operating system. 
FAQ 108: Updated on: 11 September 2020 09:38