Anyone who has to switch between several languages ​​under Windows comes up with the idea of ​​creating a desktop shortcut on Windows 11 for the language settings!
Why not if it is possible and one-click solutions are always practical, because they are time-saving, if you don't ►► 
like to change the language with Windows PowerShell 
because it is not so visual, you can use a Windows language button on the Desktop still save time!
1.) Creating the language settings as a desktop link!
1. Keyboard shortcut
Windows + D
to focus on the desktop  
2. Click on a free space on the desktop
3. As always>
New
> Create
shortcut
4. As target
explorer.exe ms-settings:regionlanguage
5. As name for example 
languages
 or
Language settings
(
... see Image-1 Point 1 to 8
) 
After completing a 
Right-click
on the icon and the
properties
change the icon Earth icon in the c:\ Windows\explorer.exe is very suitable and appropriate, or simply download ►► 
Windows-Language-Option.zip
  PS: With explorer.exe, this is necessary, otherwise it cannot be attached to the start menu! Log off shortcut Windows 11
(Image-1) Language settings as desktop shortcut on Windows 11!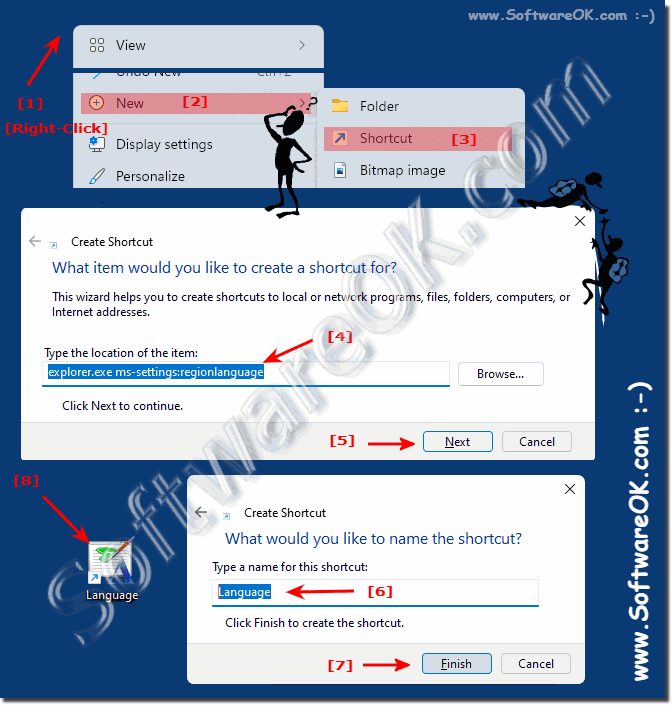 2.) Via the start menu to the language settings!
1. By right-clicking on the ►
language settings desktop shortcut
that you just created 
2. Simply 
attach it to the start
(
... see Image-1 Point 1 to 3
) 
(Image-2) Language settings in the Windows 11 start menu!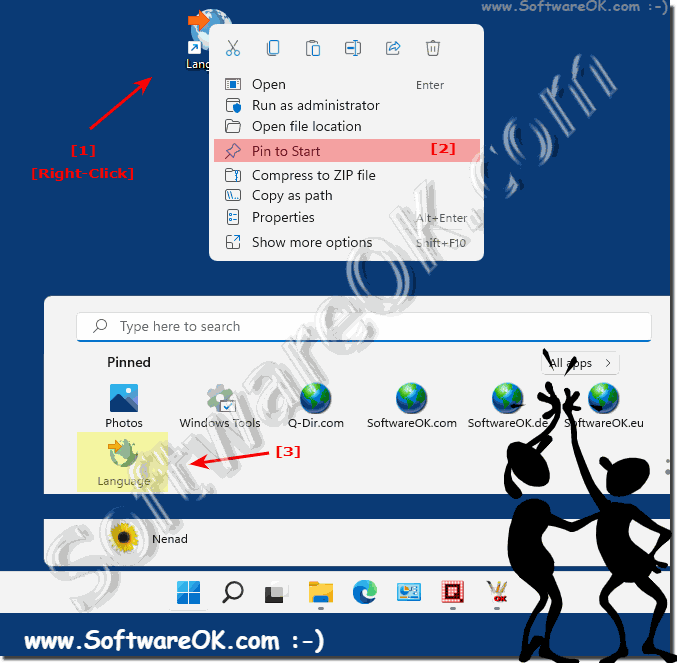 3.) ... What should be considered when changing the language to Windows 11!
There is nothing great to consider here, except that you have to install the language first in order to switch to the appropriate language! Otherwise the language will not appear in the Windows 11 language settings!   
(Image-3) Change or add new language in Windows 11!