To allow the remote desktop connection to Windows 10 PC, of course the remote connection must be activated / enabled on the Windows 10 operating system. 
Here is the solution, how to open the Remote settings!


To open the settings for the Remote Assistance / Remote Connections to in Windows 10

1. Please run the command sysdm.cpl, best from the Windows 10 run dialog.
For example, through the Windows Logo + R key combination.

2. In Windows 10 system properties, please select  the Tab Remote.

3. And activate the remote-options (... see Image 1 Arrow 1 to 6)

See also: Start Remote-Desktop Connection in Windows 10 || Create and manage user accounts in Windows 10 ||

Important! A Remote Desktop Connection is not possible with an account without password.

This is the Solution for Win-10 Home:  Enable Remote Desktop on Windows-10 Home, how to? 




(Image-1) Windows-10, allow Remote desktop connection!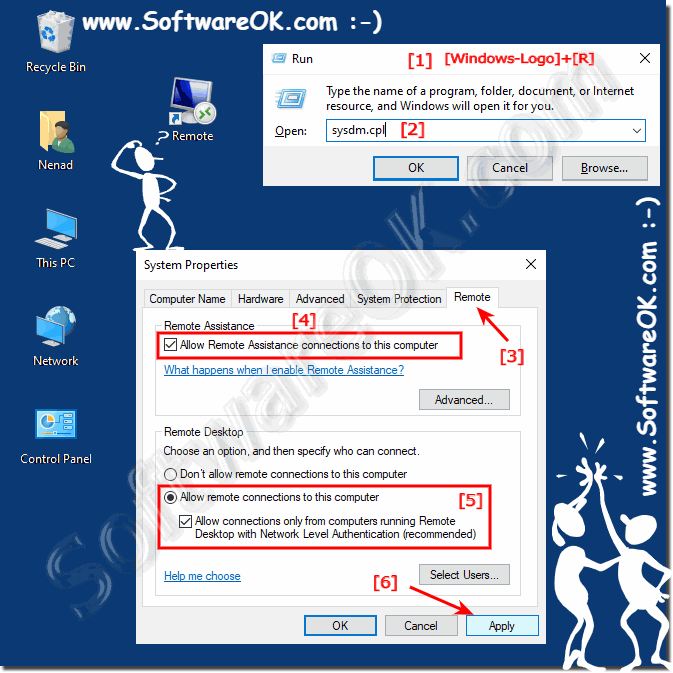 The RemoteApp and Windows-10 Desktop Connections is a Windows-10 feature you can use to access programs and desktops (remote computers and virtual computers) made available to you by your workplace's network administrator. With a connection, all of these resources are located in a single, easy-to-access folder on your Windows-10 computer.




Info:

As you can see above in Windows 10 shot screenshot, it's easy to enable remote desktop connection on Windows 10 You can easily apply this example to previous versions of Microsoft's Windows operating systems to enable the remote desktop connection no matter whether it's a Windows desktop, tablet, Surface Pro / Go, or even a server operating system.









FAQ 86: Updated on: 18 May 2020 11:25