After downloading Windows 11, simply leave the field where the "Product Key" is entered blank during the Windows 11 installation!


►►  The free download of MS Windows 11 is practical, but then you ask yourself what about the product key / product key, can I work without it and what are the disadvantages?


Contents:



1.) Install Windows without a product key!

When entering the product key / product key you can skip it and install Windows 11 without a product key  

1. For product key:  "I don't have a product key"
2. Confirmation of the license for Windows 11 
3. Select upgrade before Windows or new installation (custom)  





(Image-1) Windows 11 without a product key!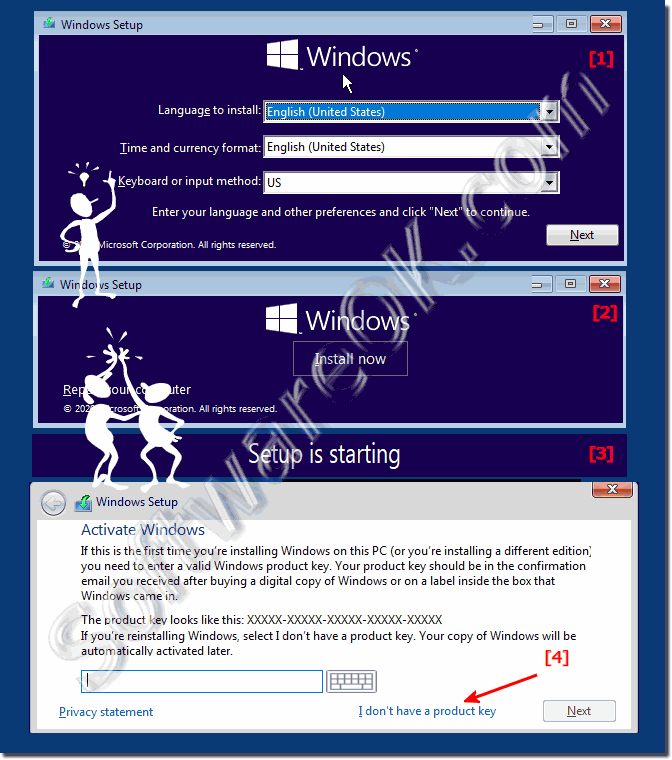 2.) What are the disadvantages without a Windows 11 product key?
Of course, without a product key, one cannot activate the Windows 11, the Windows updates downloads updates quite normally and installs them even if Windows 11 is not activated, for a specific period or purpose.

Windows 11 locks all personalization settings including themes, background, colors, lock screen, themes, fonts,  start menu and taskbar, but all programs continue to work normally, in the lower right corner of your desktop you will see the words Activate Windows! 



3.) More tips related to product keys and... so!
FAQ 202: Updated on: 26 August 2023 07:15