The Windows 11 Smart Screen protects against downloads and the installation of malware, but the protection can be deactivated / adjusted!
1.) Adjust the Smart Screen in Windows 11!
1. Windows 11 Run Windows Logo + R] Keyboard combination

2. Command wscui.cpl
3. Now click on the text Change Smart Screen Settings
(
... see Image-1 Point 1 to 5
)
Info:
Move the slider all the way down to deactivate the Windows 11 Smart Screen, after that there is no notification that the program will be started in administrative mode, as well as the confirmation that the user becomes a kind of
super admin under Windows 11
!
(Image-1) Customize the Windows 11 Smart Screen!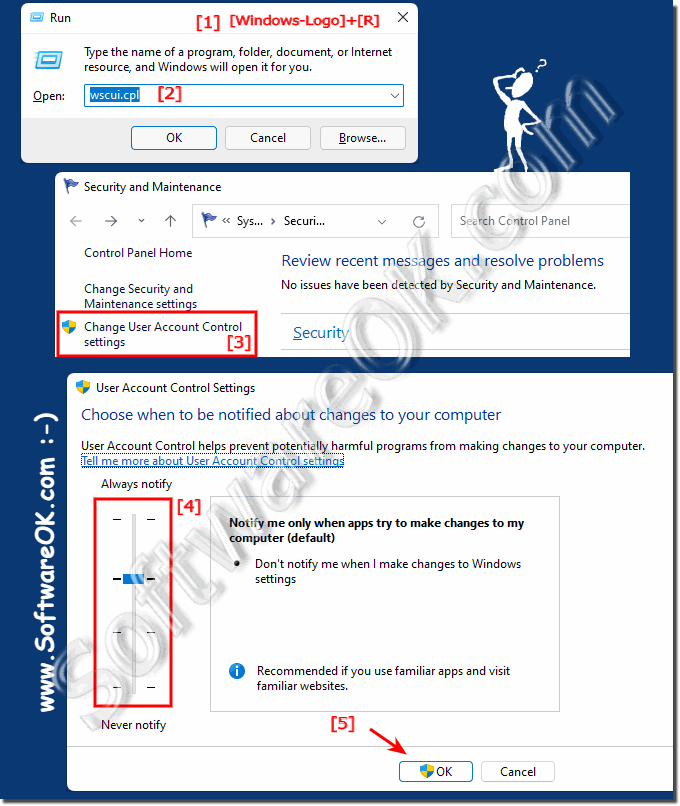 2.) Thoughts and considerations about smart screen and protection!



A "smart screen" is typically a term for a security feature in an operating system or web browser that is designed to protect users from malicious downloads and dangerous websites. These features are often used to detect potentially harmful or unsafe files and warn the user before downloading or executing them.

In an increasingly connected world where data and information is easily accessible, protecting devices and personal data is of utmost importance. Smart screens play an important role in securing this information.


Be careful with downloads: Downloads from the Internet can be dangerous as they may contain potentially harmful software, viruses or malware. Smart screens are an important protection mechanism to warn users of such threats.

Ease of use : Guards should be user-friendly because they will be used by people with varying levels of technical knowledge. Smart screens are often designed to display warnings in plain language and provide users with instructions on safe use when necessary.

Update and customize:The threat landscape is constantly changing, so it is important that smart screens are regularly updated and adjusted to detect new threats. This requires continuous research and development.

Avoid false alarms: Although protective mechanisms are important, they must also be designed so that they do not trigger false alarms too often. Too many alerts can cause users to disable security features, resulting in less protection.

Cooperation:Threat protection often requires collaboration between various parties, including operating system manufacturers, browser vendors, antivirus software developers, and users themselves. Security awareness and adherence to security policies are critical.

User Responsibility: Despite the presence of smart screens, users should not blindly trust them. They should be aware that they play an important role in keeping their devices and data secure by following secure practices such as regular updates, password protection and download verification.




Overall, smart screens and similar security mechanisms are crucial to protecting users from the numerous threats from the digital space. However, they should always be viewed as part of a comprehensive security approach that includes conscious user behavior and regular updates and maintenance.





FAQ 62: Updated on: 6 October 2023 05:59