You can theoretically install Windows 11 on a 30 gigabyte partition, but MS Windows 11 requires 64 GB!



 


Content:



1.) The correct size of the Windows 11 partition?
I would say a partition size for the installation of (c:\) 64 GB, but 120 GB is better!

»» X32 (not available in Windows 11)

»» X64 (on the DVD ~ 4.5 GB, after installation on the hard disk drive ~ 20 GB)

With a ► clean offline installation, without hiberfil.sys and the pagefile.sys on C:\ ~ 12 GB 




(mage-X) MS Windows 11 OS after Installation!



Addendum July 15, 2021!

After a few updates, Windows 11 reached a size of ~30 GB on the hard drive! 5 gigabytes are provided for the ►  ... hybrid standby and 3 GB for ► ... the Windows 11 swap files





(Image-1) MS Windows 11 OS 2 weeks after installation!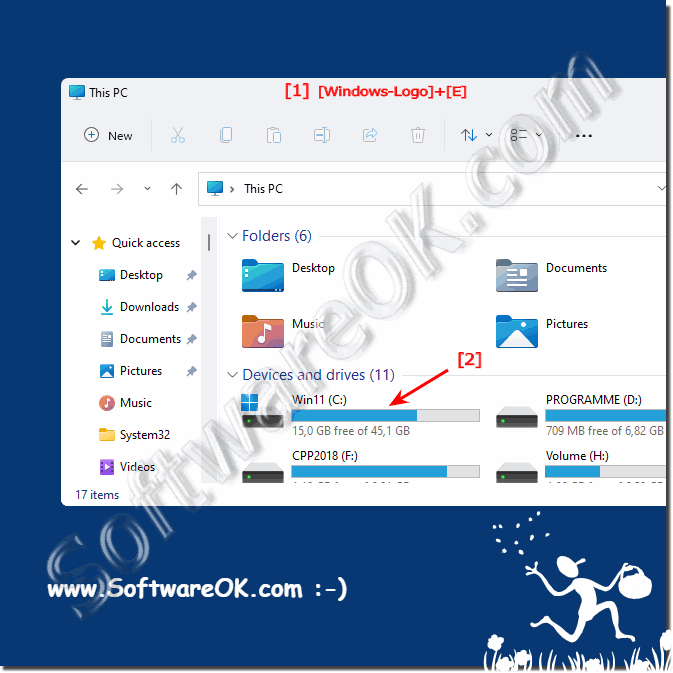 2.) Why is it important to determine the size of the partition correctly?
With the somewhat smaller SSD, the hard disk space is limited, for this reason one wonders whether it will be sufficient in the future on the hard disk C: \ or partition (volume).

If the partition is too small, you may have to reinstall Windows 10 at some point!




3.) Here is the overview of the directory size after 4 weeks Windows 11?
In the ► Quad Explorer you can easily see the size of the individual directories as well as the total size of the files and the number of folders!




(Image-2) MS Windows 11 OS folder, files, size, count!

FAQ 73: Updated on: 26 August 2023 06:56