Even with Windows 11, you can set the time for automatic maintenance!


So that the activation of the computer by the planned maintenance happens at the planned time under Windows 11!


 

Content:



1.) Automatic maintenance on Windows 11!

2. F3 key and enter "main" 

3. Open "Security and Maintenance"

4. open the group  "Maintenance" 

5. For maintenance the time set on:  "Change maintenance settings" 

(... see Image-1 Point 1 to 7)



PS:

The Windows 11 Security and Maintenance s-Center is the center for displaying warnings and adjusting the actions that are to be carried out in order to enable proper work under MS Windows 11 OS. The Action Center in the Control Panel is also responsible for notifying you when certain problems or security settings require your attention or intervention.






(Image-1) Windows 11 set automatic maintenance time!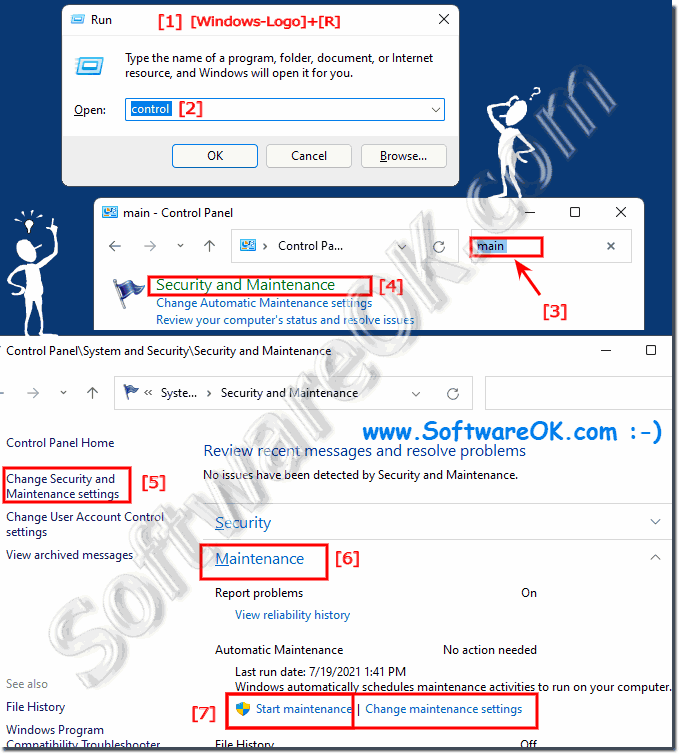 2.) What is automatic maintenance + adjustments?
Windows 11 maintenance tasks include software updates, security scans with applications like Windows Defender, disk defragmentation, system diagnostic tasks, data backup, ...!
Das Windows Update gehört nicht dazu ist nicht mehr so sehr aggressiv wie in den ersten Versionen von Windows 10 aber diese installieren sich standardmäßig auch außerhalb des Wartungsfensters.
Die Wartung kann auch manuell eingeleitet werden über
"Wartung starten"
und sie können über
"Wartungseinstellungen ändern"
die Zeit ändern / anpassen!"
(
... siehe Bild-2
) 
Mehr Infos: ►► 
Wie kann man ein Systemabbild unter Windows 10/11 erstellen?
PS:
Die Gruppenrichtlinie ermöglicht es Systemadministratoren jedoch, Windows Update zu zwingen,  Updates während des Wartungsfensters zu installieren .
(Image-2) Windows 11 automatic maintenance set the time!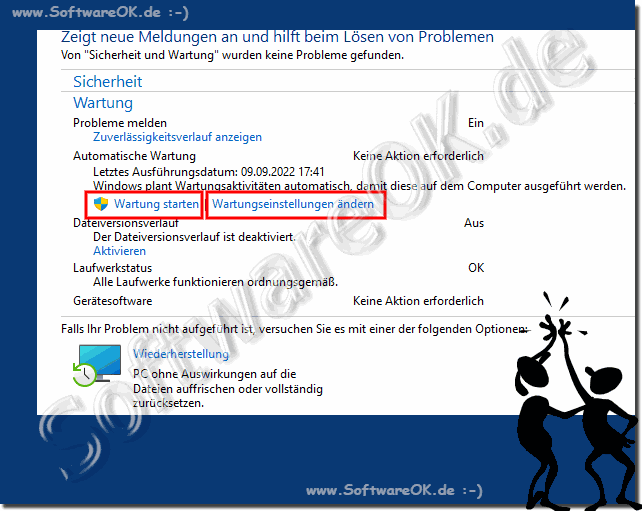 3.) ... Similar functions and tips?




Automatic maintenance in Windows 11 is a process that runs in the background and performs various maintenance tasks such as Windows updates, security scans, and system optimizations. Typically, Windows performs these tasks at times when the computer is not under heavy use to ensure system performance and reliability. Here are some tips for timing automatic maintenance in Windows 11:

Leave default settings enabled:

Windows is usually good at choosing when to run automatic maintenance to minimize disruption to your work time. It is often best to leave the default settings.

Use the power saving feature:

If you want to adjust the timing of automatic maintenance, you can use the power plan settings. For example, you can enable power saving mode to ensure maintenance is performed during periods of low activity.

►►  Hybrid hibernation settings in Windows 10 and 11!

Schedule maintenance:

If you prefer, you can also schedule automatic maintenance manually. To do this, go to Control Panel, search for "Maintenance" or "Maintenance and Performance" and select the option to schedule maintenance manually.

Avoid maintenance during work hours:

If you work on your computer during work hours, make sure maintenance is scheduled for times when you are not active. This can help minimize interruptions.

Monitor performance:

If you notice problems with your computer's performance during automatic maintenance, it may help to schedule maintenance for a time when you are not using the computer, such as at night.

►►  Monitor GPU usage in Windows Task Manager?

Use hibernation:

If you want to ensure that Automatic Maintenance runs without interruptions, you can enable hibernation before you leave the computer. Windows runs maintenance tasks in the background while the computer is in sleep mode.

►►  Use the PC sleep timer on Windows!
►►  Hibernate standby difference on MS Windows!




It's important to note that Windows 11 is usually good at scheduling automatic maintenance so that it isn't intrusive. However, there may be situations where manual adjustment is required to optimize performance and productivity.





FAQ 84: Updated on: 26 October 2023 06:45