The
classic troubleshooting

can also be found and used under Windows 11, Home and Pro Version!

 



Content:

►► 

New troubleshooting under Windows 11!
1.) The classic problem treatment!
If you do not want to immediately access the ►
repair  options or safe mode
, you can handle Windows 11 computer problems with automatically!
1. Start as always, the
Windows 11 Control Panel
2. Enter the search term
"trouble"
 select 
Troubleshooting
   + 
"View All"
3. You can explicitly go to certain computer problems   
(
... see Image-1 Point 1 to 7
)
(Image-1) Have Windows 11 computer problems treated in the classic way!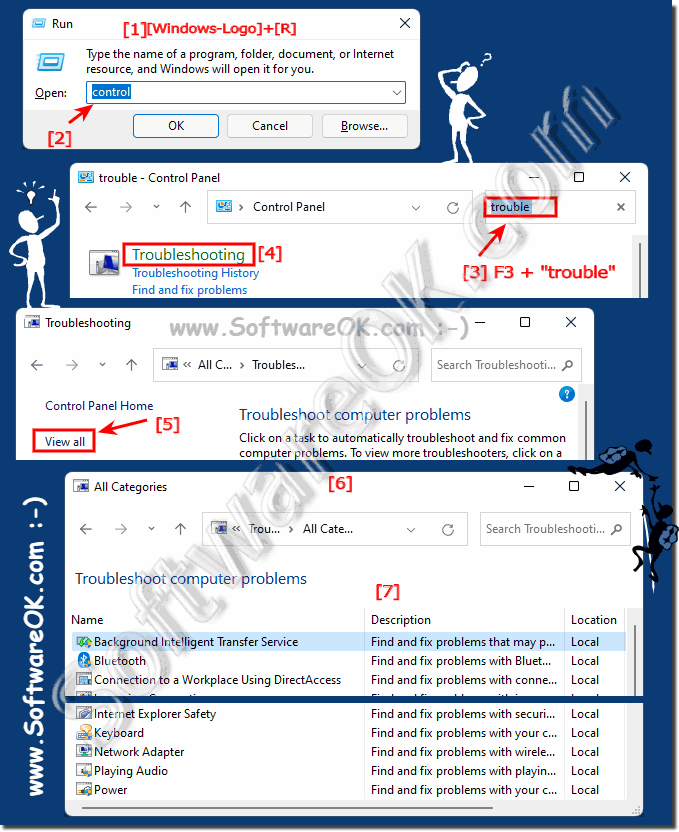 2.) What can I expect from the problem handling?
Known, recurring problems are well recognized in the troubleshooter, which fixes quite a few problems fully automatically and tells you what to do to fix the problem, the troubleshooter has gotten better and better over time for Microsoft's operating systems!