The solution is simple to quickly open Ease of Access Center in Windows 8.1 and Win 10!


The fastest way to open Ease of Access Center in Windows 8.1 or 8 is via using the keyboard shortcut [Windows + U]!

In the Ease of Access Center, you have quick access to many other commonly used tools: Magnifier, Start-Narrator, On-screen Keyboard and High contrast and other helpful tools! (... see Image-1 Arrow- 1 and 2).

The full path of EaseOfAccessDialog.exe is C:\Windows\System32\EaseOfAccessDialog.exe, but a direct start via exe is not possible.



(Image-1) Ease of Access Center in Windows 8.1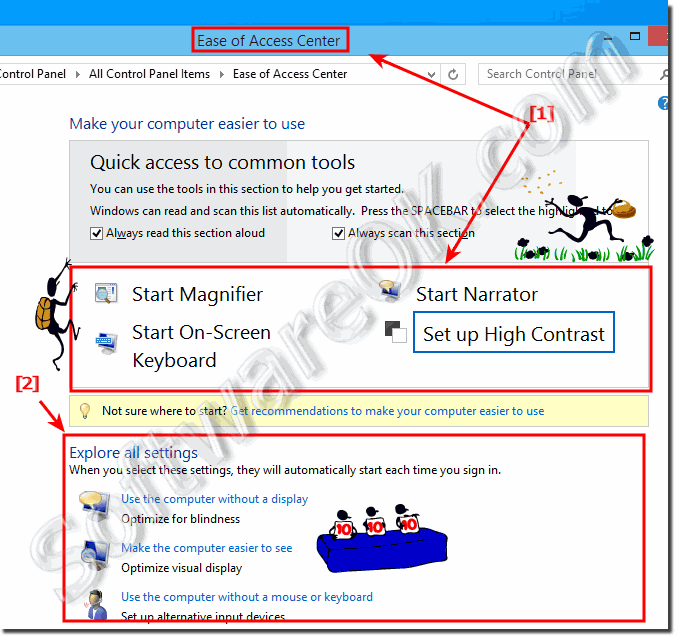 Info (c) Microsoft
Magnifier
This is a tool that enlarges part—or all—of your screen so you can see the words and images better.
High contrast
If it's hard to read text on your screen because you need more color contrast, you can turn on high contrast.
Narrator
With Narrator, you can interact with your PC without a display by hearing audio descriptions of text, buttons, and videos on the screen.
On-Screen Keyboard
If you prefer to use your PC without using a keyboard, try using On-Screen Keyboard, a tool that lets you enter text by selecting characters on the screen.
Sticky Keys
With Sticky Keys turned on, you won't have to press complicated key combos. For example, instead of pressing Ctrl+Alt+Del at the same time, you can press keys one at a time.
Toggle Keys
Toggle Keys play a notification each time you press the Caps Lock, Num Lock, or Scroll Lock keys. These notifications can help prevent the frustration of inadvertently pressing a key and not realizing it.
Filter Keys
When you turn on Filter Keys, Windows ignores when you press the same key rapidly or when you press keys for several seconds unintentionally.
FAQ 149: Updated on: 21 July 2019 10:35