Yes, the printing of the directories works in all Windows operating systems, no matter if Windows 10 with IE 11, or 8.1 with IE 10, or under Windows 7 with IE 8!  





 

Content:


1.) Print out the directories on all Windows operating systems!

Many users of modern Windows operating systems want to be able to print the directory from the Windows Explorer, a Windows directory printout function offers itself here, this function gap is closed by the free tool Dir-Print-OK.


(Image-1) Printing the folder list on all Windows operating systems!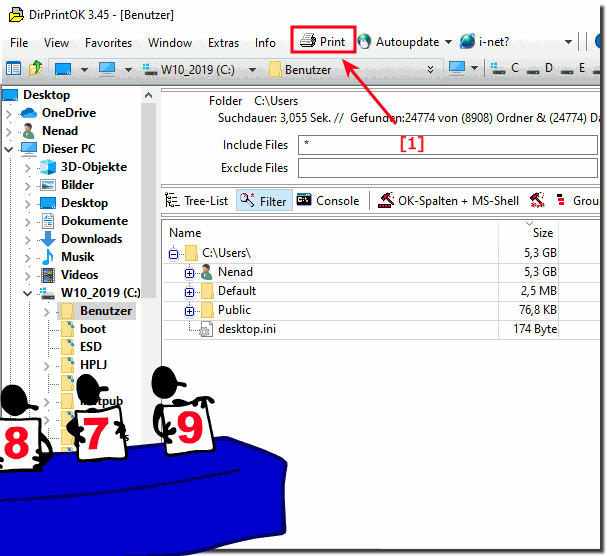 Printing a list of files!


Printing a list of files is hard work with Windows Explorer.

In fact, it is almost impossible.

DirPrintOK is a fast and efficient utility that lets you print a list of files that reside in any folder and in any number of subfolders.


The solution is very easy to print directories and folders contents!
Easy to use is DirPrintOK and highly configurable.
Besides being very easy to use, you can customize file lists to suit your own preferences.
Lists only file names, or contains file size, date, time, path, extension, attributes, creation date and time, date and time of access.
Furthermore, you can format your output as text, HTML, or as a list of delimiters!





The solution ergo instruction, is one of the best folder content print solution is not only written for Windows 10.
 


2.) Alternative printing of the directories on all MS Windows OS!

To print directories on Windows operating systems, you can use the command line. Here are some steps you can follow:

Open Command Prompt:

Press the "Win ​​R" keyboard shortcut to open the "Run" dialog box.
Type cmd and press Enter.

Navigate to the desired directory:

Use the cd (Change Directory) command to change to the directory you want to print. Example: cd C:\path\to\directory.

List directory contents:

Use the dir command to display the contents of the directory. For example: you.
Redirect output to a text file:

To redirect output to a text file, use the dir > Output.txt command. This will write the output of the dir command to a file called output.txt.

Open the text file:

Open the created text file with a text editor. You can use Notepad or any other text editor of your choice.

Print the file:

Open the text file in your text editor and select Print from the menu.

In summary, the commands could look like this:




cd C:\path\to\
dir directory > output.txt




After executing these commands, you will find a file named "output.txt" in the directory which contains the contents of the directory. You can then open this file with a text editor and print it out.


3.) Advantages and disadvantages of directory printing on Microsoft Windows!
Printing directories on Microsoft Windows has both advantages and disadvantages. Here are some of them:

Benefits:

Overview and Documentation: Printing directories allows you to create a physical copy of the directory contents. This can be useful for getting an overview of files and folders and having documentation.

Offline Access: A printed list allows you to access information about directory contents even when you are offline or do not have access to your computer.

Reference for Others: A printed directory listing may also be useful to others, especially if you need to share information about the contents of a directory with colleagues or clients.

Disadvantages:

Timeliness: Printed directory listings can quickly become out of date, especially when changes are made to the file system. New files are not recorded and deleted or moved files may no longer be listed correctly.

Resource Consumption: Regularly printing directories can place a significant drain on paper and ink resources, especially if the directories are large.

Environmental Impact: Printing directories creates paper waste and contributes to environmental impact. In many cases, digital alternatives can offer a more sustainable solution.

Efficiency: Digital search and organization tools often provide a more efficient way to access directory information. Using search features in File Explorer or third-party tools can often be faster and more accurate.




Overall, the decision to print directories depends on specific needs and preferences. It is important to consider the trade-off between having a physical copy for offline access and the potential drawbacks in terms of freshness and resource consumption. In many cases, digital alternatives such as using cloud storage services or creating digital directory listings may make more sense.





FAQ 12: Updated on: 21 November 2023 06:27