It is just practical to start the Wordpad under MS Windows 11 via the Start menu!
1.) The Wordpad in MS Windows 11 Start!
Click on the Windows 11 logo, or use the
Windows logo + Q
key and type
wordpad
into the Windows 10 search field and click on
"Pin to Start"
. Now you can start WordPad by clicking on the WordPad button in the Windows 11 start menu!
(
... see Image-1 Point 1  to 3
)
You also need WordPad Start Options:
(Image-1) Wordpad for the Windows 11 Start menu!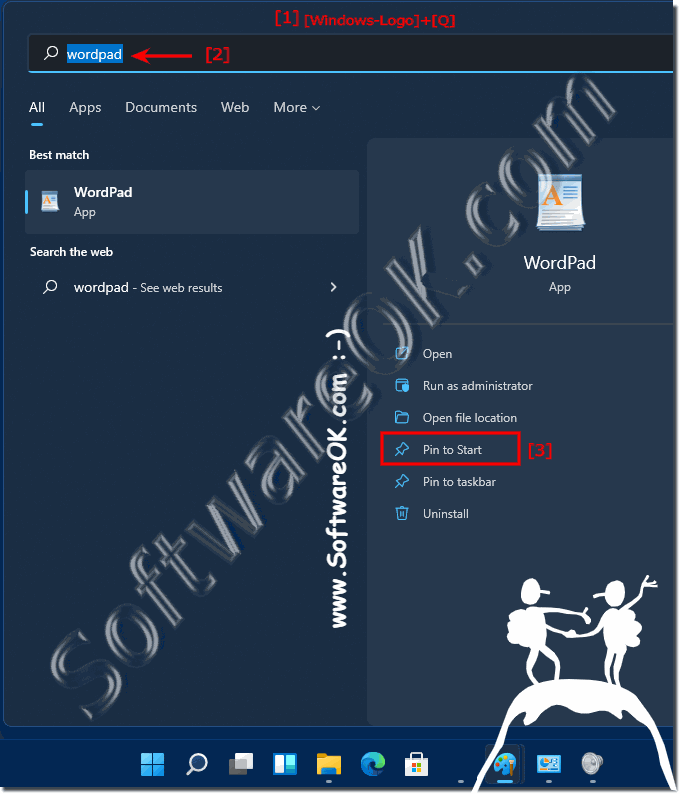 2.) More tips on Wordpad on MS Windows OS!
WordPad is one of the most popular programs on MS Windows desktop and server operating systems because it is not only free but also pre-installed on all MS Windows OS systems!
WordPad is a simple word processing application and does not offer the full functionality of Microsoft Word or other word processing programs. If you need to create simple documents, you don't need to switch to complex and cumbersome word processing software.