Logging out via a desktop shortcut under MS Windows OS is also quite easy to create a big button to log out, why not if it is feasible!   
1.) The Logout desktop shortcut!
1. As always, click on a free space on the desktop   
2. As always ► 
New
 ► Create
shortcut
3. As target
shutdown.exe /l /t 0
4. As a name, for example, 
logout
  or
log-off
(
... see Image-1 Point 1  to 7
)
(Image-1) Log off desktop shortcut on Windows 11/10!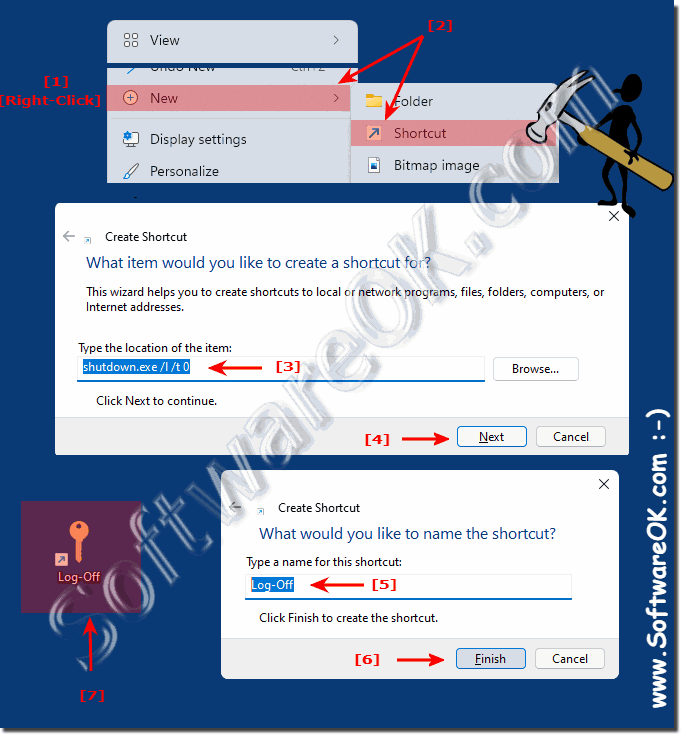 2.) The logout symbol!
If you want to download it: ► 
Windows-Log-Off-Button.zip
Many icons can be found in:
C:\Windows\system32\SHELL32.dll
C:\Windows\system32\imageres.dll
1. Simply click the icon with a Right-click to open the
properties
2. And select the symbol yourself using the
"Change Icon ..."
button !
(
... see Image-2 Point 1 to 7
)
(Image-2) Log out desktop shortcut icon!