Logging out via a desktop shortcut under MS Windows OS is also quite easy to create a big button to log out, why not if it is feasible!   
1.) The Logout desktop shortcut!
1. As always, click on a free space on the desktop   
2. As always ► 
New
 ► Create
shortcut
3. As target
shutdown.exe /l /t 0
4. As a name, for example, 
logout
  or
log-off
(
... see Image-1 Point 1  to 7
)
(Image-1) Log off desktop shortcut on Windows 11/10!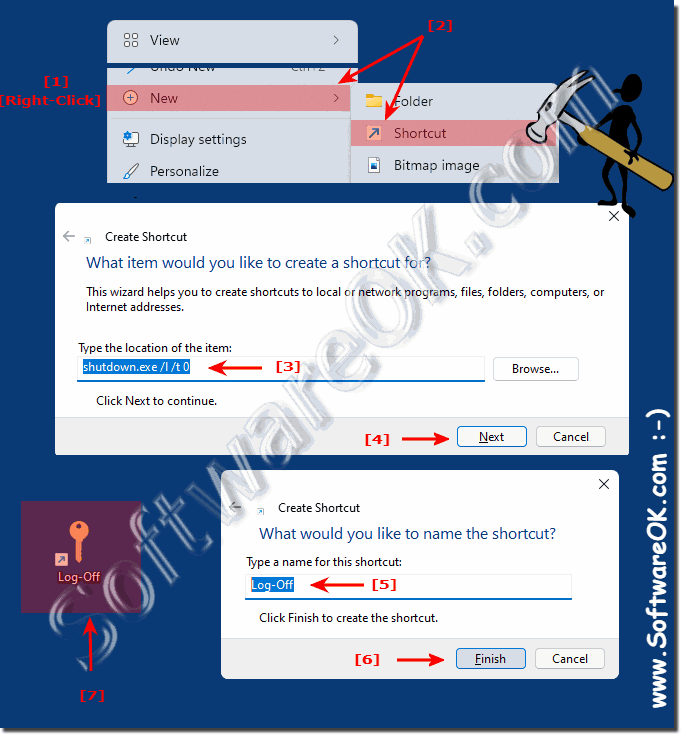 2.) The logout symbol!
If you want to download it: ► 
Windows-Log-Off-Button.zip
Many icons can be found in:
C:\Windows\system32\SHELL32.dll
C:\Windows\system32\imageres.dll
1. Simply click the icon with a Right-click to open the
properties
2. And select the symbol yourself using the
"Change Icon ..."
button !
(
... see Image-2 Point 1 to 7
)
(Image-2) Log out desktop shortcut icon!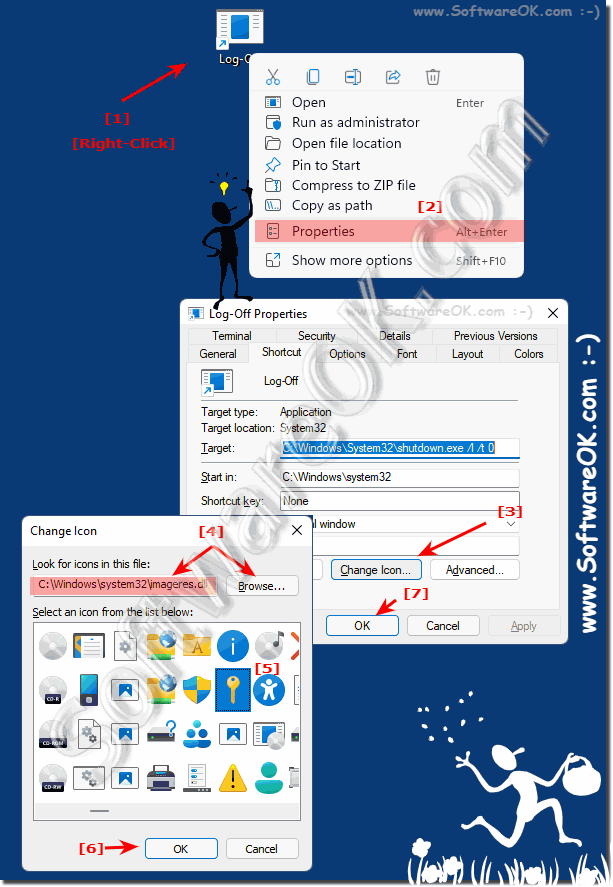 3.) ... Log off on Windows what happens then?
Logging in and out of Windows is not always necessary, but it makes sense! If you log out of MS Windows 11, 10, ..., all apps, applications, ... used are closed, but the PC is not switched off by logging out. Another user can log in without having to restart the PC as long as
multiple users have been created under Windows 11
. Even if another user switches off the PC, your information will not be lost as you have properly logged off! You don't necessarily have to sign out on Windows 11. Optionally, you can just lock the PC as long as there is no risk of someone/other users logging into their accounts on the login screen and gaining unauthorized access to their PC.
See also: