From version 5.25 it is easy to
automatically shut down the Windows PC at lower CPU load

or to initialize another action on Windows 11, 10, ....

The Don't Sleep program

has a timer that allows you to temporarily override system standby and hibernate settings, and optionally shut down your computer at a specific time when your job is done, but it is new to not overriding it Timer, but depending on the CPU load!

Content / Solution / Tip:
1.) Switching to CPU load to start certain action!
1. Please select what by 
Don't Sleep
 is to prevent 
(
... see Image-1 Point 1
)
2. Click on the tab CPU 
(
... see Image-1 Point 2
)
3. Then just how long the CPU load should drop below 1-33%. 
If the CPU load is below for X minutes, then below 1-33% , the selected action
(
... see Image-1 Point 3
)
(Image-1) Automatically shut down the PC at a lower CPU load!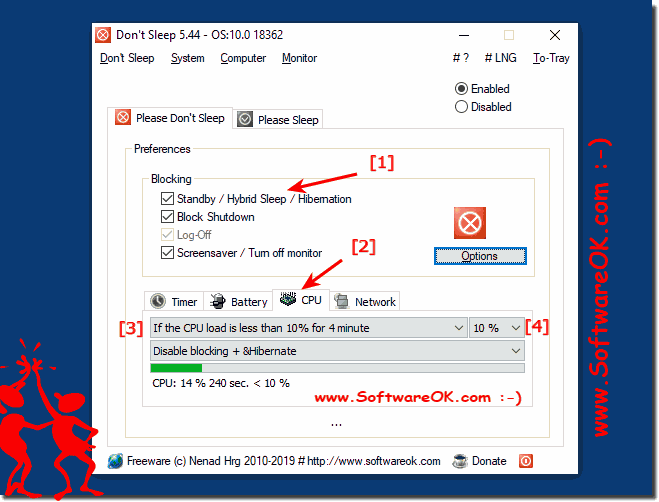 Info:

Yes, not only with Linux, Appel's Mac OS, or Google's Android, you can use various timers to influence the computer in its behavior in terms of energy efficiency and environmental awareness    
The elegant solution is not just written
for energy efficiency under Windows 10
. As you can see from the screenshot taken in Windows 10 above, it is quite easy to influence the computer depending on the CPU load. You can easily use this simple and fast CPU load-based hibernate solution on older versions of Microsoft's Windows operating systems, whether it's a Windows desktop, tablet, Surface Pro / Go, or even a server operating system. 

2.) What is the CPU load dependent shutdown or hibernation good for?
Even older programs video converter, audio end code / decoder have no way to prevent the PC goes into hibernation, or after completion of the task the PC is then really put into hibernation.
If you consider this, for example, by disabling the
standard
Windows Power options
, then the computer will continue to run useless all night, even if it is no longer necessary.  
If you can estimate the time well, you can use the
standard timer feature in Dont Sleep
.