The preview of the animated gif images on Windows 11, 10, etc. to see them as an animation sequence is very popular!
Content:
1.) The animated GIF images!
1. As always ►►
start the Quad Explorer on MS Windows OS
2. and the gif animations in the Quad Explorer on Windows are displayed! 
(
... see Image-1
)
(Image-1) Gif images preview!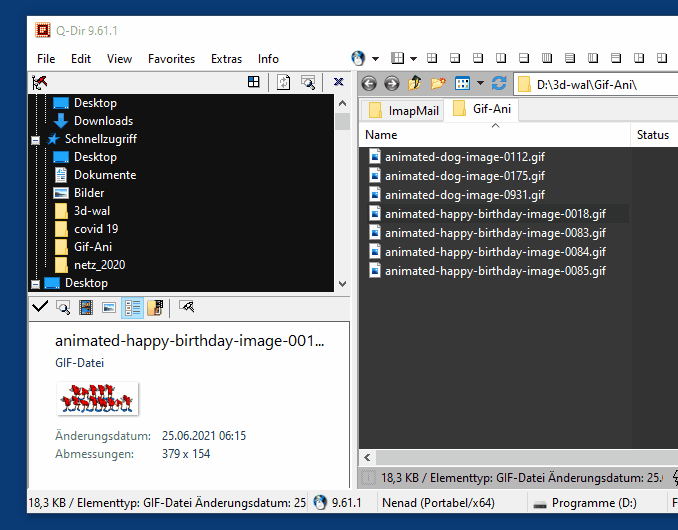 2.) Who still uses animated GIF images!
Many nostalgic users and graphic designers still use GIF images. The animated images are quite limited, only some images can serve as animation. However, they have an advantage over normal graphics because they can better represent a specific topic.
GIF images will continue to be used more and more in the future because they are quite convenient and the size isn't a hassle at all with today's data transfer rates, which was the case in the 90's, even though they were much more common then.
3.) Do animated GIF images still have a right to exist?
Yes, animated GIF images still have their place and are still popular and useful in many contexts. Here are some reasons why:
Compatibility:
GIFs are supported by most web browsers and social media platforms without the need for special plugins or extensions. This makes them an accessible way to view animations.
Easy to Create:
No special software or advanced knowledge is required to create animated GIFs. There are numerous online tools and apps that allow users to create GIFs from existing images or videos.
Small File Size:
GIFs tend to have smaller file sizes compared to other animated formats such as videos. This makes them ideal for situations where bandwidth or loading times are a concern.
Humor and Expression:
GIFs are commonly used on social media and messaging platforms to express emotions, humor and messages in a lively and entertaining way. They're a popular way to share reactions, memes, and internet culture.
Tutorials and How-Tos:
Animated GIFs are often used to create step-by-step instructions and tutorials. They are a useful way to illustrate complex processes or actions.
Advertising and Presentations:
Animated GIFs are sometimes used in advertisements and presentations to attract attention or attractively showcase products and services.

Although there are modern formats such as WebM or MP4 that are more efficient and powerful in some aspects, animated GIFs still have their place in digital communication and creativity. Their simplicity and wide support make them a versatile means of expressing movements and emotions online.