Windows 10 SmartScreen protect you from downloading or installing malware ,The solution is simple to customize Smart Screen in Windows 10!




The Windows 10 SmartScreen Filter, is a tool in MS Internet Explorer. that helps detect phishing websites. Smart-Screen Filter can also help protect you from downloading or installing malware and malicious software and APPs. 

 

Please start the Smart-Screen Settings via Windows-10 Run Command, start it via Windows-Logo+R keyboard-combination an enter the command 

wscui.cpl

 (... see Image-1 Arrow-1) 

And now click the text

Change Windows SmartScreen settings

and customize or turn off the Windows 10 SmartScreen.
(... see Image-1 Arrow-2).

See also:
Why Windows 10 close my programs at program start || Change Windows 10 product key || turn on / off the Windows 10 Defender

(Image-1) Windows-10 and Smart Screen settings!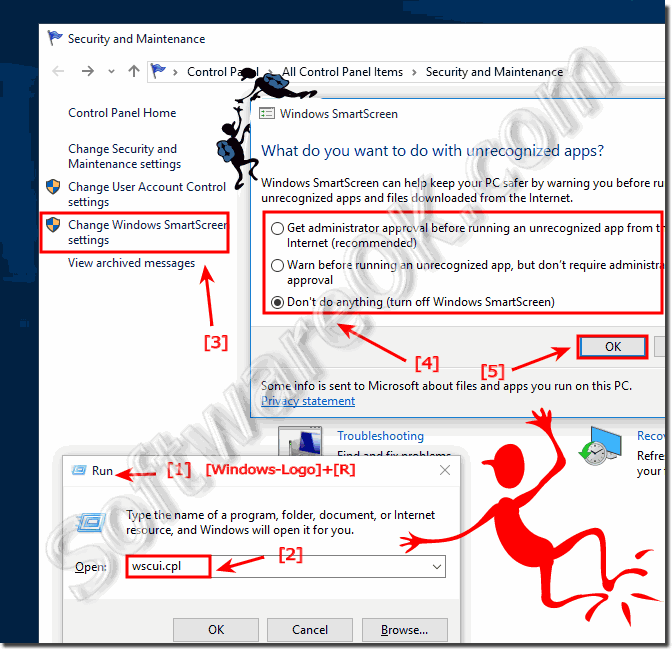 When you download a program from the Internet, Windows-10 SmartScreen Filter will check the program against a list of programs that are downloaded by a significant number of other Internet Explorer users and a list of programs that are known to be unsafe. If the program you're downloading isn't on either list, SmartScreen Filter will display a warning that the file isn't "commonly downloaded." It doesn't necessarily mean the website is fraudulent or that the program is malware, but you probably shouldn't download or install the program unless you trust the website and the publisher.
FAQ 113: Updated on: October 4th 2015 18:56