Quite simply you can in
the modern address bar, the folder path editing

, or editing change in the Quad Explorer!



The elegant solution is written not only for

Windows 10

, it is also possible under Windows 8.1, 7 ..., the 

Quad Explorer

has the solution with two more

different address bars

the

modern address bar has the tree view

 in every Explorer view, this is slightly different than the

system File Explorer

, the main difference is that you have to press the F4 key twice in the modern address bar to edit the address field, at one time F4 you can conveniently select the new folder in the address bar directory tree!


Content / Solution / Tip:


See also: ►► Transfer the column settings 

between the explorers

!

1.) Editing the address line in the Quad Explorer!
With a left mouse click in the free area you can start editing!

At 1 time F4 the address bar tree appears  
With 2 times F4, the edit field of the address bar is focused.  
(
... see Image-1
)
(Image-1) Edit the folder path in the new address bar on all Windows OS!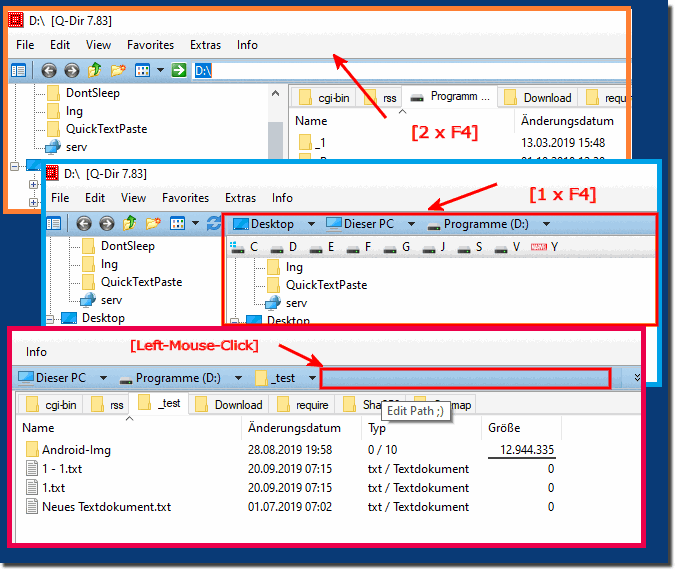 2.) What should I consider when editing and entering new folder paths?
The address bars and paths are largely based on the System File Explorer, the folder paths can be specified in several ways and it is really quite easy to understand this address line strategy, I have already written something for this.
FAQ 116: Updated on: 14 May 2021 17:00