The solution to find and run the System File Checker, for example to fix some crashes or problems in Windows 10 / 11, search for corrupted, missing, files or features!
 

Content:


See also: ► Defragmenter in Windows 10 (hard drives, optimization)! ► Clean Installation of the Windows 10

1.) Start the System File Checker in Windows 10 / 11!
The Windows 10 / 11 System File Checker need the original Windows 10 or 11 DVD, to restore the

original versions of corrupted files

, if any detected.

Please start The Command prompt (Admin) for example via Windows-X Keyboard-Shortcut (... see Image-1 Arrow-1&2)

and enter the command

sfc /scannow

  (... see Image-1 Arrow-3)



(Image-1) Using System File Checker for crashes in Windows-10!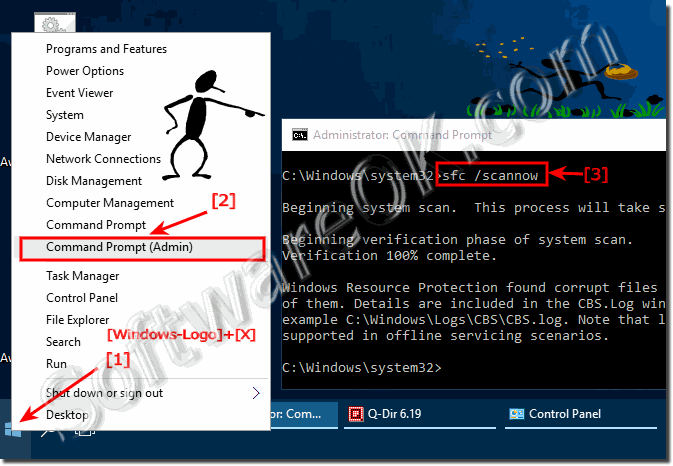 2.) Scannow System File Checker output!
(Image-2) output from File Checker !
C:\Windows\system32>sfc /scannow

Beginning system scan.  This process will take some time.

Beginning verification phase of system scan.
Verification 100% complete.

Windows Resource Protection found corrupt files but was unable to fix some
of them. Details are included in the CBS.Log windir\Logs\CBS\CBS.log. For
example C:\Windows\Logs\CBS\CBS.log. Note that logging is currently not
supported in offline servicing scenarios.

C:\Windows\system32>



3.) Other features in System File Checker!
(Image-3) System File Checker features!
C:\Windows\system32>sfc /?

Microsoft (R) Windows (R) Resource Checker Version 6.0
Copyright (C) Microsoft Corporation. All rights reserved.

Scans the integrity of all protected system files and replaces incorrect versions with
correct Microsoft versions.

SFC [/SCANNOW] [/VERIFYONLY] [/SCANFILE=] [/VERIFYFILE=]
 [/OFFWINDIR= /OFFBOOTDIR=]

/SCANNOW        Scans integrity of all protected system files and repairs files with
problems when possible.
/VERIFYONLY     Scans integrity of all protected system files. No repair operation is
performed.
/SCANFILE       Scans integrity of the referenced file, repairs file if problems are
identified. Specify full path
/VERIFYFILE     Verifies the integrity of the file with full path .  No repair
operation is performed.
/OFFBOOTDIR     For offline repair specify the location of the offline boot directory
/OFFWINDIR      For offline repair specify the location of the offline windows directory

e.g.

sfc /SCANNOW
sfc /VERIFYFILE=c:\windows\system32\kernel32.dll
sfc /SCANFILE=d:\windows\system32\kernel32.dll /OFFBOOTDIR=d:\ /OFFWINDIR=d:\windows
sfc /VERIFYONLY

C:\Windows\system32>




Search for corrupted, missing, files or features Applies for: Windows 10 Pro, Windows 10 Enterprise, Windows 8.1, Windows 8.1 Enterprise, Windows 8.1 Pro, Windows 8, Windows 8 Enterprise, Windows 8 Pro, Windows 7 Enterprise, Windows 7 Home Basic, Windows 7 Home Premium, Windows 7 Professional, Windows 7 Starter, Windows 7 Ultimate, Windows Vista Enterprise 64-bit Edition, Windows Vista Ultimate 64-bit Edition, Windows Vista Business, Windows Vista Business 64-bit Edition, Windows Vista Enterprise, Windows Vista Ultimate.

FAQ 138: Updated on: 31 July 2021 14:17