It is easy to set up the Windows 10 so that it

automatically plays DVD's when inserting

!
1.) The DVD Auto-Play Setup in Windows 10/11!
Please open the windows 10 settings (for example via Window logo + i key combination) and click on the Devices icon. And adjust the settings for automatic playback in Windows 10 ;-) 
(Image-1) Setup on Windows 10/11 to play DVD's automatically!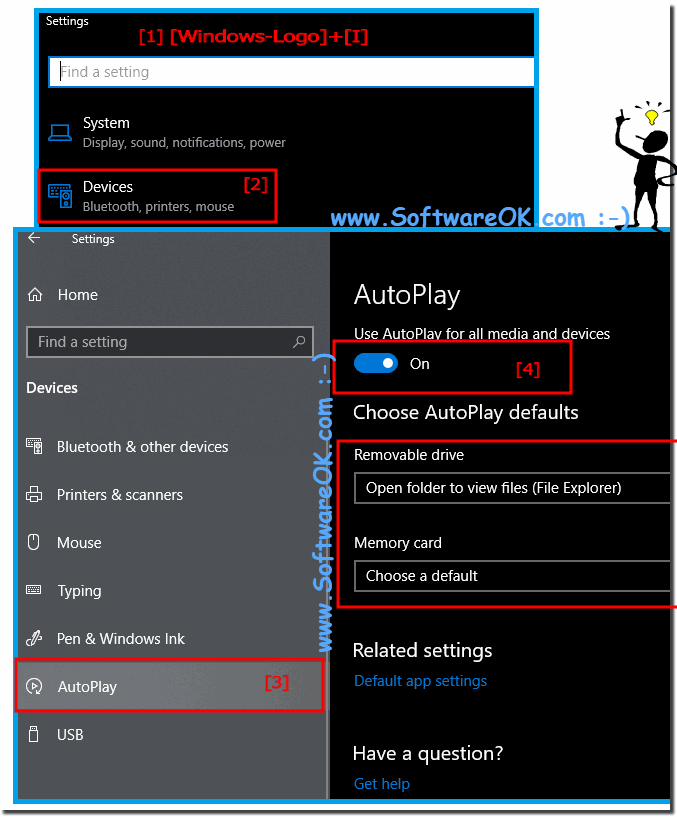 The elegant solution to automatically play DVD's is not written only for Windows 10 Home. As you can see at the top of the Windows 10 shot screenshot, it is quite easy to play DVD's automatically. Customize and disable them at any time. You can easily use this simple and fast solution on other Microsoft Windows 10 operating system configurations, whether it's a Windows desktop, tablet, Surface Pro / Go, or even a server operating system. 


Tip:

If you do not want to automatically play CDs and DVDs when you insert them into the Windows 10 PC, you can change these settings so that when you insert a DVD, or any X disk, you are prompted to choose what to do and what programs you want want to use to play the DVD, or even Blu Ray discs.

2.) What should I consider when Windows-10/11 plays the DVDs automatically
The automatic MS Autoplay option lets you choose which program to use for which type of digital media, such as CDs, or images from a digital camera. If there is a big auto-update of Windows 10, it can happen that you have to make the settings again.
Info:
If a media program is open in an active window, the media player may automatically stop playing and only play or play the content. In this case, AutoPlay will not be displayed and the default action will not be performed. Some programs will cancel auto-play when open, depending on the media type,
Eject the CD Tray ergo open the DVD or Blue-Ray drive in windows 10
is also possible at any time.
3.) ... Find in Windows 11 the AutoPlay settings!
1.
Windows + i 
2. text
"autoplay"
+ Enter
3. and select
AutoPlay settings
4. Customize the AutoPlay settings in Windows 11
(
... see Image-2 Point 1 to 5
) 
(Image-2) Windows 11 AutoPlay settings!